May 19, 2020 8:00 AM
Day 57 (Thursday): At this point we're just trying to clear some random foods out of our fridge. One thing that always works for this is pizza. We've already done "normal" pizza and BBQ chicken pizza, so we decided to have some Hawaiian pizza this time.
Oh, my sister also made some cheesy bread sticks to go along with it. I don't think she was terribly happy with this dish, but it still tasted good. And it made a great breakfast a couple of days later. I love leftover pizza.
---
Day 58 (Friday): For the first time in three weeks, I finally started to relax at work. I had been working so much that I actually ended the day at 2pm! This meant that I was able to cook dinner again!
Chinese Eggplant with Garlic Sauce (The Woks of Life)
We bought a few eggplants when we last went to the Asian store without knowing what we'd do with them. But eggplant is always good in stir-fry, and I haven't had stir-fried eggplant in a while. My sister really likes it with egg, so we used that instead of ground pork. We ate all of it that night! And since we had a lot of that honey garlic pork left, we ate that as well. Delicious.
---
Day 59 (Saturday): I was so excited to make some pork tacos, but when I took out the piece of pork, it smelled kind of funky and after pondering about it for a while, my sister and I decided it was best to just throw it out.
But obviously I still wanted tacos, so I walked to Aldi and bought a whole other pork butt.
Hey, I really wanted tacos. Pineapple and pork go really well together. I was also going to make some sriracha mayo, but I decided to make it interesting and put sriracha in sour cream instead. I'm never doing that again. It was weird.
The tacos were delicious though.
---
May 17, 2020 11:32 AM
Day 52 (Saturday): It's the weekend! Which means no work! Which means I actually had time to cook!
Yeah, that's right. I did the cooking. I really wanted to make some shrimp bowls. Of course, it ended up taking me forever, and it really felt like I made four different things: shrimp, rice, pineapple salsa, and black beans.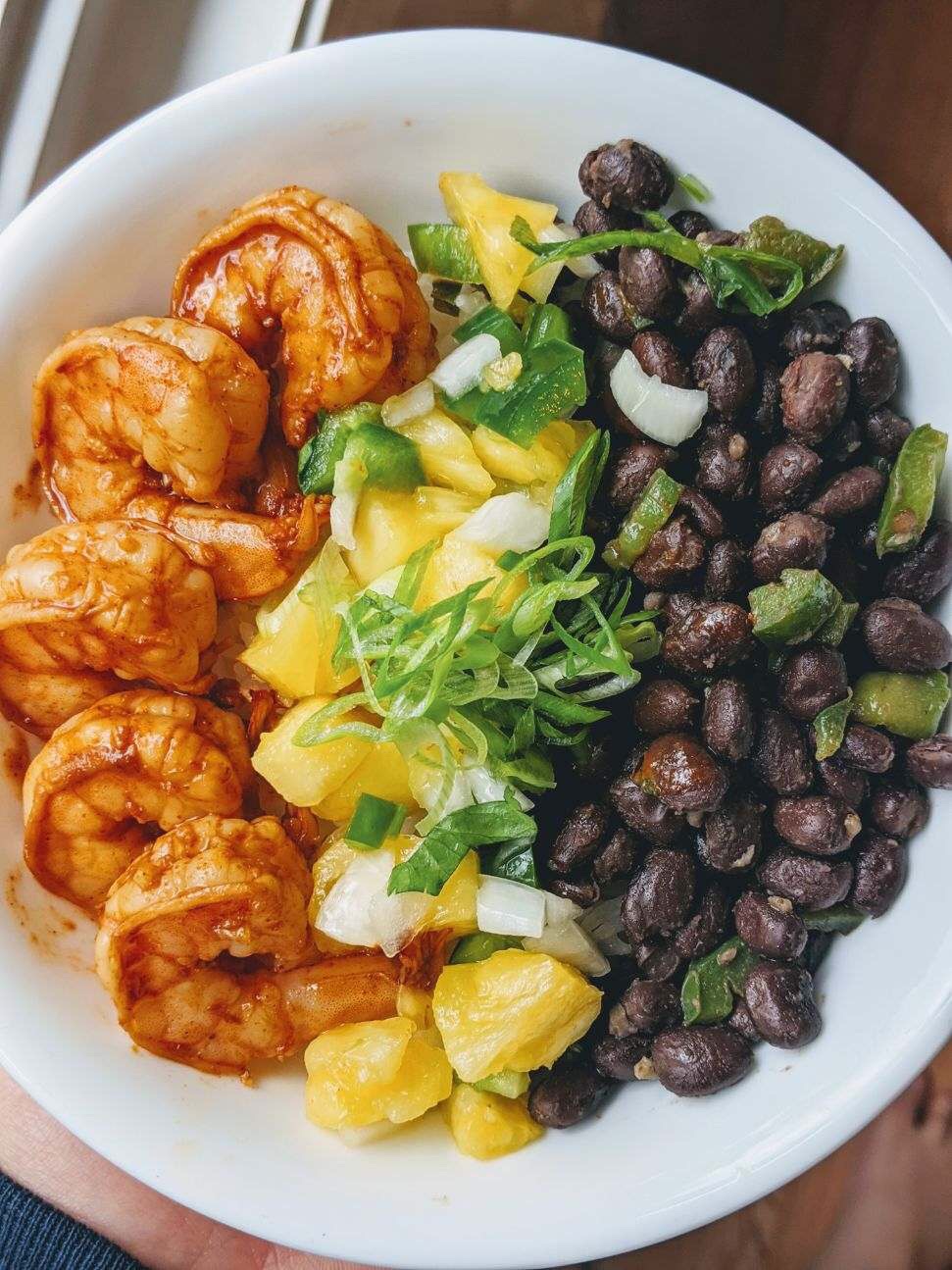 But whatever. It was worth it. Absolutely delicious.
---
Day 53 (Sunday): My sister was feeling lazy (and I've been feeling lazy for the past three weeks), so we just ate leftovers. We had too many leftovers sitting in the fridge anyway.
---
Day 54 (Monday): We bought this big thing of pork butt in our last grocery shopping trip and I think it may have been sitting in the fridge for just a little too long. So we decided to cook it.
I really wanted to try another pork loin recipe (but using a pork butt), and this honey garlic pork loin sounded really good. Using pork butt for this was definitely a good idea. We also needed a veg and some starch, so we roasted some brussels sprouts and potatoes as well. Overall, it was a good meal.
---
Day 55 (Tuesday): My sister made 韭菜粿 and I think it's worthy of its own post. So you'll see it in the next one.
---
Day 56 (Wednesday): When we went grocery shopping earlier this week, we stopped in the Italian grocery store, and decided to look all the different fancy pastas they had. Both my sister and I really like wide noodles, and I normally find fettuccine not wide enough.
But the Italian grocery store had some really nice fettuccine. The one we bought was completely in Italian! It was also a whole $2! I think paying that extra dollar was worth it though. The recipe we used was a bit weird, but it still tasted good.
---
April 28, 2020 8:00 AM
Day 33 (Monday): Every once in a while I feel the need to make a fried chicken sandwich. Because who doesn't love fried chicken sandwiches? I actually found a recipe on Budget Bytes for a baked chicken sandwich, but it looked like it was fried.
This meal was way bigger than I meant for it to be. We marinated the chicken in pickle juice overnight, which meant we had a jar of pickles with no juice, so we made fried pickles as well. My sister even made the buns from scratch.
But it was worth it. These sandwiches were really good, though I don't think they're quite as good as actual fried chicken sandwiches. I would definitely make them again.
---
Day 34 (Tuesday): So we actually were going to include sweet potato fries in Monday's meal, but we realized that was way too many things to cook. We moved it to Tuesday and paired it with a pork tenderloin. And...various leftover veggies because veggies are important.
Herb Roasted Pork Tenderloin (Budget Bytes)
I never actually posted this dish on my blog, but back when my sister was living with me last year, we baked pork and it was the best pork I've ever tasted in my life. We were hoping to replicate that here, but last year we used a pork shoulder and this time we used pork tenderloin. It was kind of dry. Lesson learned, never buy tenderloin. Always go for the butt. The pork butt, I mean.
Now those sweet potato fries were delicious. I'm definitely making them again.
---
Day 35(Wednesday): I was scrolling through food blogs and I saw a picture of some Bibimbap, and I don't know, but those fried eggs on top always get to me. So we decided to make some Bibimbap.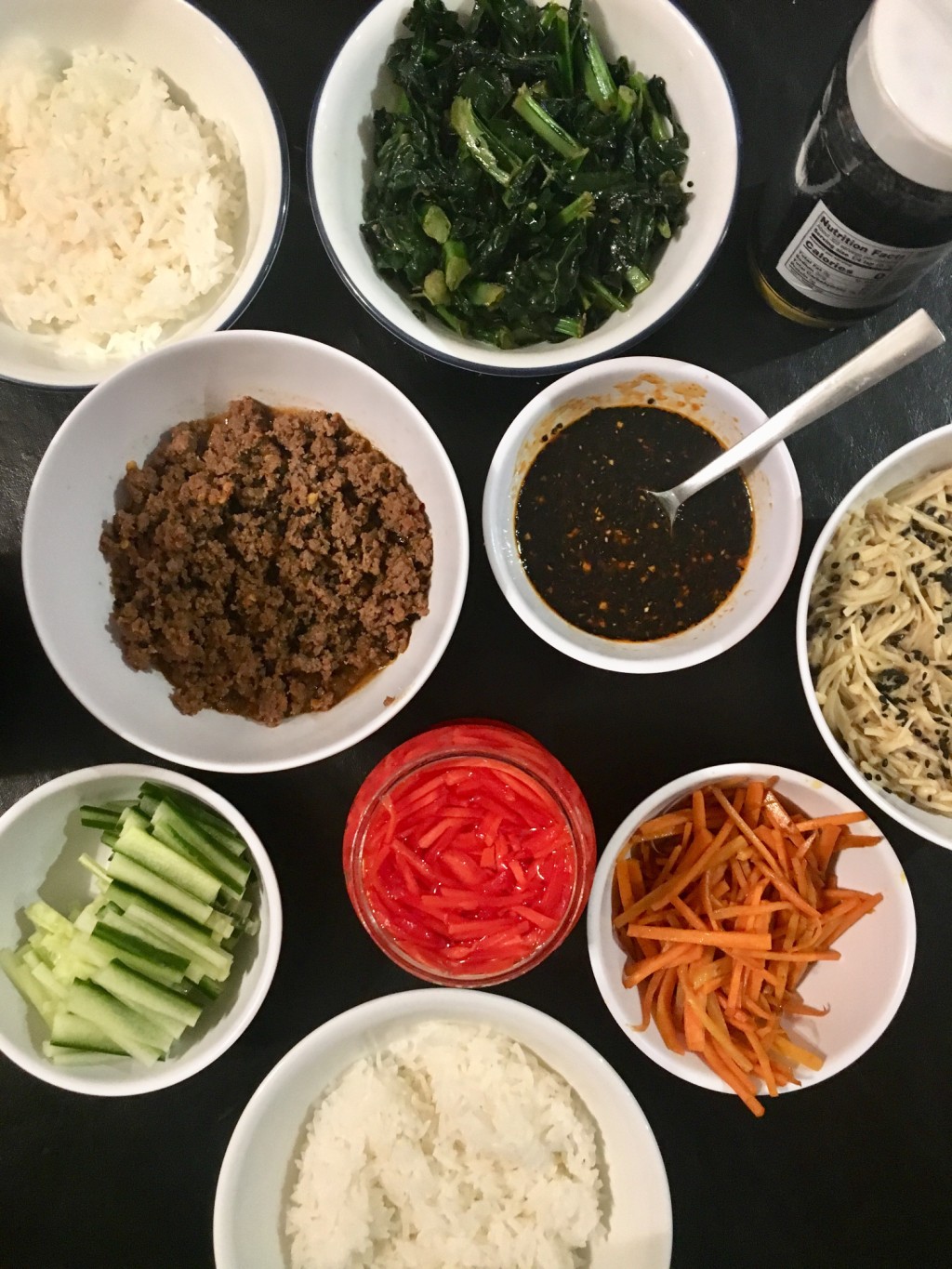 Bowl meals are great. Just get whatever ingredients you have on hand and chop them up and put them into little bowls and have a bowl party.
Delicious.