May 11, 2020 8:00 AM
Day 49 (Wednesday): I actually felt a little better today, but I still ended up working way way too much. So of course my sister took care of dinner.
We had some mango that was ready to eat, and so my mind immediately went to shrimp tacos.
I love tacos. Tacos are always a good choice.
---
Day 50 (Thursday): Holy crap, day 50 already?! Anyway, we had some chickpeas sitting in the fridge that I felt needed to be used, so I figured we could make some falafel.
This was a little bit of a struggle, as the falafel patties totally fell apart when we tried to fry them. It's alright though. My sister managed to salvage them, and at the end they came together nicely. We also had some roasted eggplant and leftover orzo pasta, since that seemed appropriate. Overall, a good meal even if we had to go through some mishaps.
---
Day 51 (Friday): The end of a stressful work week. I was very exhausted by now, so I was definitely not in the mood for cooking dinner. However, my sister is always up for cooking dinner. And she decided to go all out for dinner by making some hand-pulled noodles.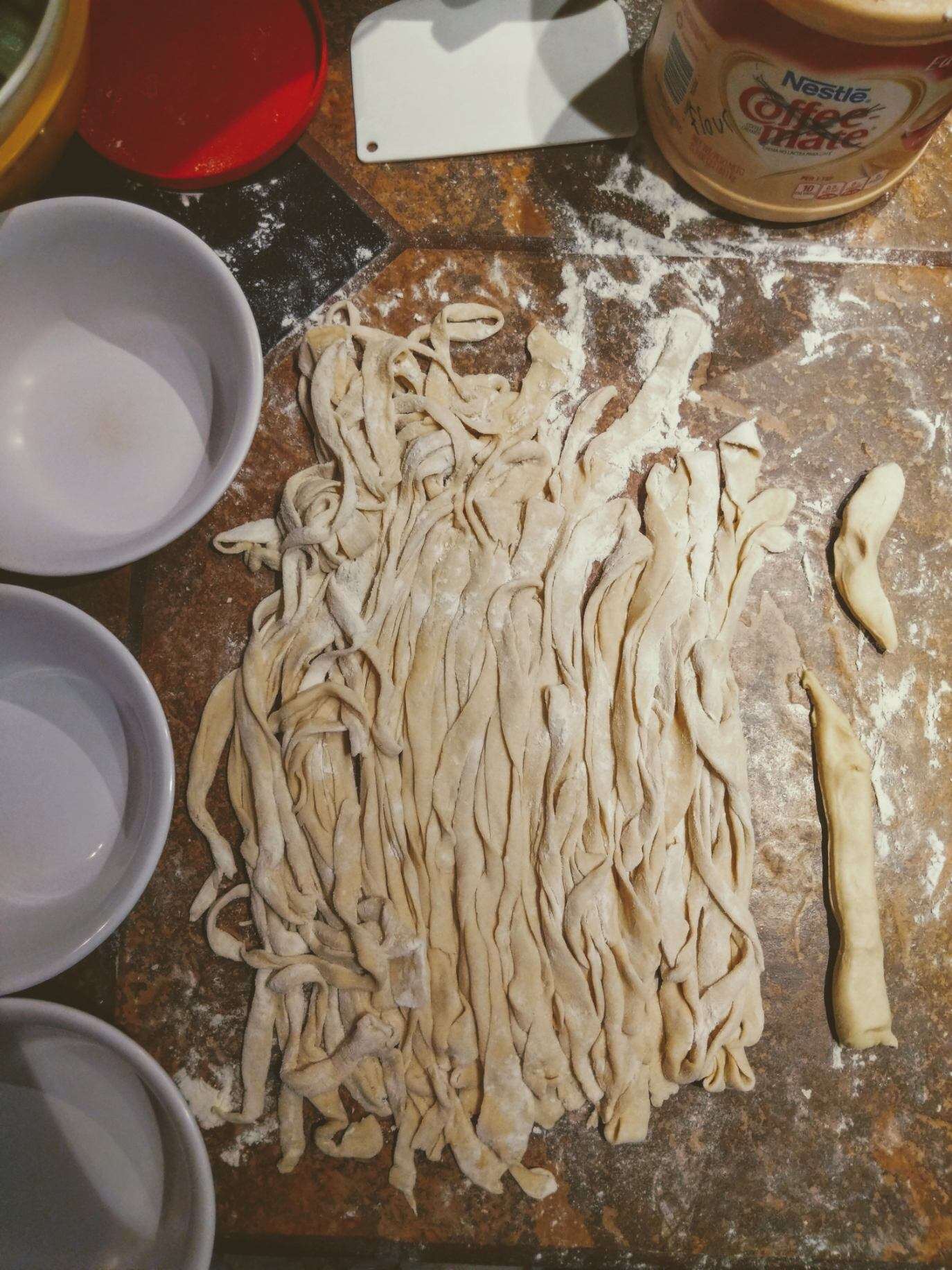 My sister told me that this was harder than she expected. But I think she did a fantastic job. The noodles were delicious.
April 28, 2020 8:00 AM
Day 33 (Monday): Every once in a while I feel the need to make a fried chicken sandwich. Because who doesn't love fried chicken sandwiches? I actually found a recipe on Budget Bytes for a baked chicken sandwich, but it looked like it was fried.
This meal was way bigger than I meant for it to be. We marinated the chicken in pickle juice overnight, which meant we had a jar of pickles with no juice, so we made fried pickles as well. My sister even made the buns from scratch.
But it was worth it. These sandwiches were really good, though I don't think they're quite as good as actual fried chicken sandwiches. I would definitely make them again.
---
Day 34 (Tuesday): So we actually were going to include sweet potato fries in Monday's meal, but we realized that was way too many things to cook. We moved it to Tuesday and paired it with a pork tenderloin. And...various leftover veggies because veggies are important.
I never actually posted this dish on my blog, but back when my sister was living with me last year, we baked pork and it was the best pork I've ever tasted in my life. We were hoping to replicate that here, but last year we used a pork shoulder and this time we used pork tenderloin. It was kind of dry. Lesson learned, never buy tenderloin. Always go for the butt. The pork butt, I mean.
Now those sweet potato fries were delicious. I'm definitely making them again.
---
Day 35(Wednesday): I was scrolling through food blogs and I saw a picture of some Bibimbap, and I don't know, but those fried eggs on top always get to me. So we decided to make some Bibimbap.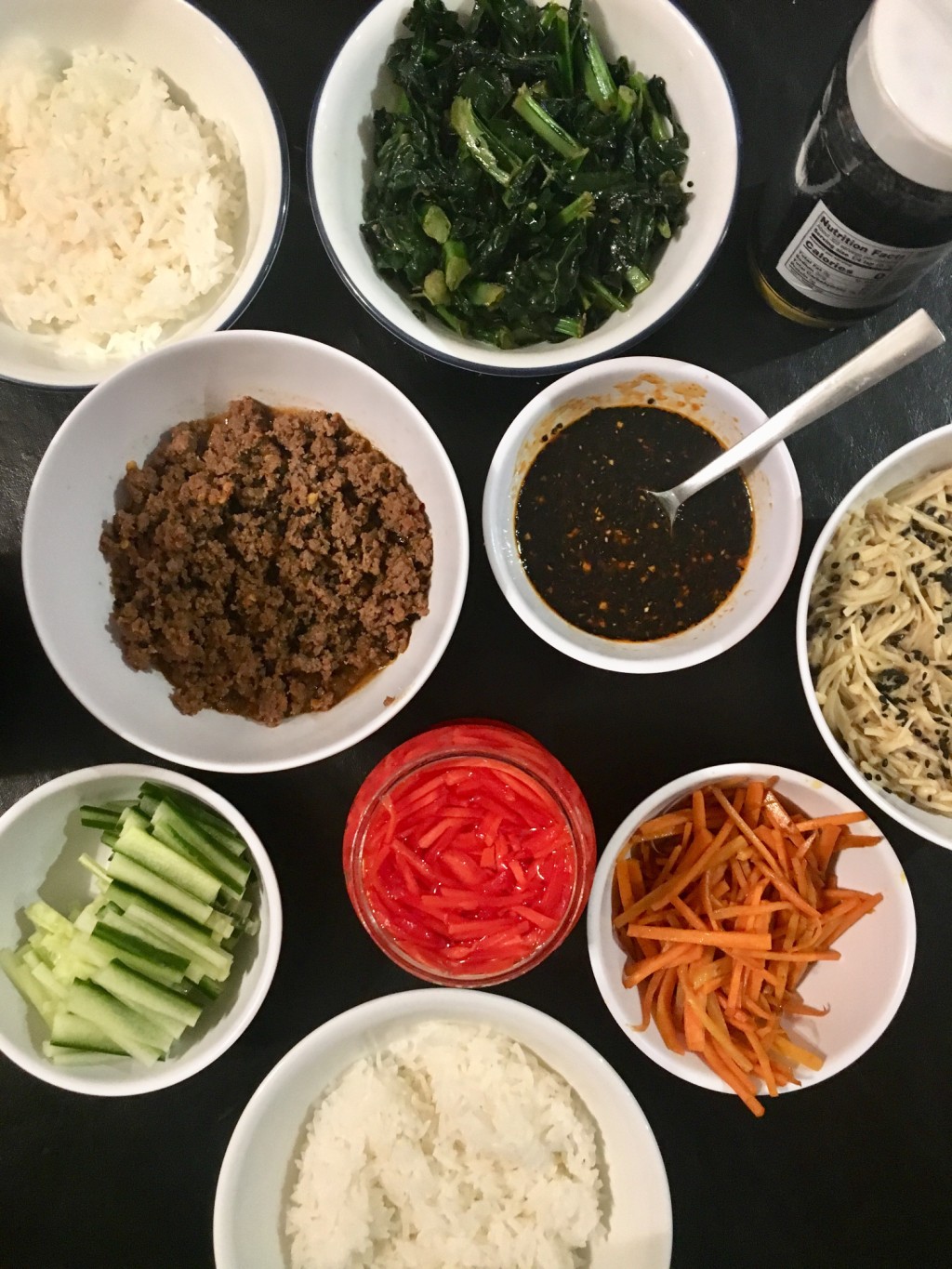 Bowl meals are great. Just get whatever ingredients you have on hand and chop them up and put them into little bowls and have a bowl party.
Delicious.