September 4, 2022 7:44 PM
It's hard for me to have two active projects at once. I started my Teochew site in 2018, then took a break from it and started my food blog in 2019. Now that I'm working on the Teochew site again, it's hard for me to find the energy to devote to the food blog. But I did take a few pictures, so I wanted to share some of the things I cooked (or helped cook) over the past couple of weeks.
Bao wasn't the only exciting food I helped make while I visited my grandma's. We made fresh spring rolls every day for "pre-dinner snack". It seemed a little excessive, but it was delicious.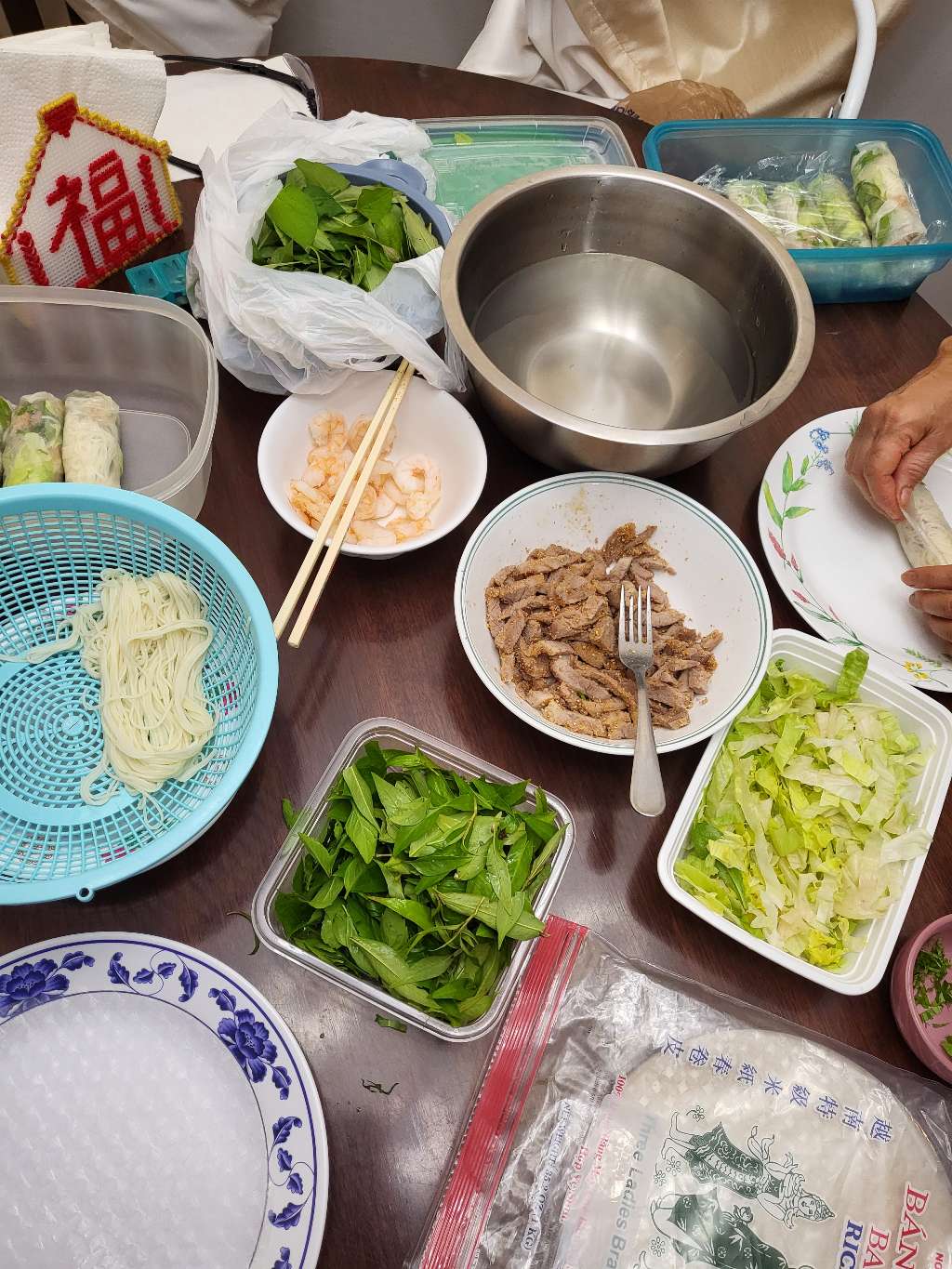 I need to figure out how my aunt prepared that pork. It was SO GOOD. On the first day, I just ate three spring rolls, but by the last day, I was eating five, which is more than I what I eat for a meal sometimes. It's okay. It's healthy.
When I got back, I made some strawberry pizza. (I actually made it twice!) My sister and I made this pizza way back when I first started the food blog, and it was one of my favorite recipes that we tried. I think it tasted good, but not as amazing as when I had it with my sister. On my second attempt, I added goat cheese, and I think that was a good addition.
Every other week, I have a "co-working day" with my friend, and after work we pick a dish to cook together. This week we made chicken tikka masala and a roasted eggplant salad. It was all very good, but my friend ended up replacing 1.5 teaspoons of chili powder with 2 teaspoons of ground red pepper in the tikka masala, and it was way too much heat for me. I usually only stick to 1/4 teaspoon if I add any hot pepper 🥵
Finally, my boyfriend requested some poke, and while I didn't have any sashimi grade fish on me, I did have half a pound of frozen shrimp. I cooked that and grabbed whatever poke appropriate ingredients I had for toppings. Poke is great because apart from the fish, I really don't have to plan for it at all. I always have poke ingredients in my kitchen.
---
April 9, 2022 7:38 PM
I know, it's been over a month since I last posted. I'm still cooking. I cook a few times a week, and most of those times I'm really happy with what I cook, but when I'm done cooking my food, I just want to eat it and not have to take photos of it. I really don't like taking photos of food, and lately I haven't had anyone else taking the photos for me, so it's hard. When my sister was living with me it worked out really well because she would plate the food really nicely and take all the photos and she really liked doing that.
Anyway, I made Chicken Tikka Masala because I had half a cup of heavy cream, and I needed a break from pasta. I had no intention of taking a photo of it and posting it on the food blog. But today, in the midst of the incredibly rainy and cloudy past few weeks, a glimmer of sun came out. I was just finished cooking and I thought "ooh! I have natural light!" I usually cook after work when it's already dark, and the photos with the kitchen and living room lights on just aren't that great. So I had to take this opportunity.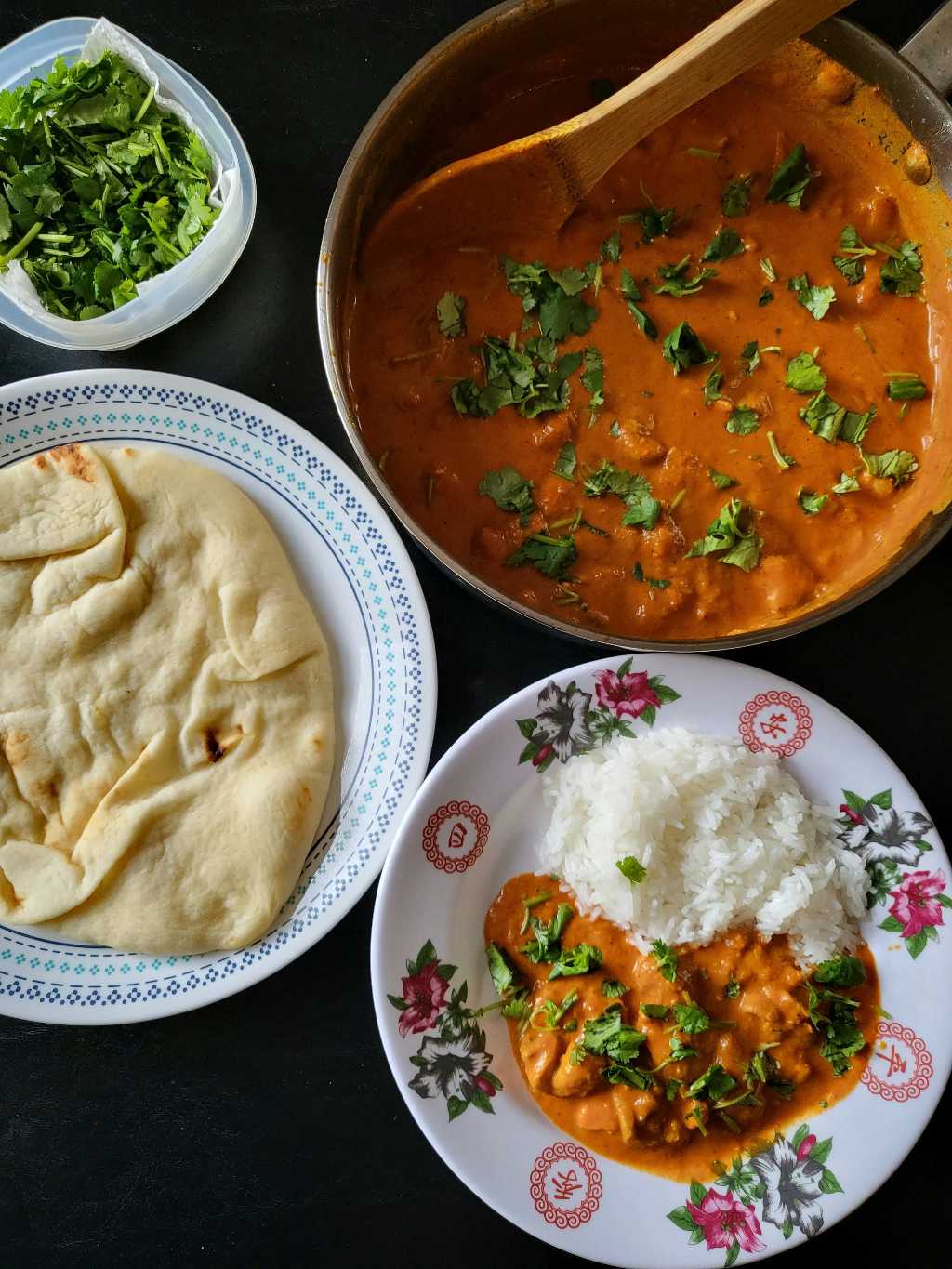 I had intended to eat this with just a piece of naan, so I initially didn't cook any rice. But once I decided I was going to take a photo, I also decided that I needed rice for the aesthetic. (Don't worry, I still ate it)
And no, I didn't make the naan. I just bought it from Aldi. Normally I would say something about how dough scares me, but I've actually made naan before! And it was good! But I was not feeling up for making both tikka masala and naan bread on the same day.
So, after I start the rice cooker, I drag my table all the way across the living room so the light is hitting it juuuust right. Or at least better than how the lighting is where it normally is. And then I think, it's finally sunny out! I should take a walk after I finish eating!
Well, it's a good thing I managed to take the photo when I did. It started raining again once I finished eating, so unfortunately that means no walk ):
But the chicken tikka masala was very good. Very happy I made that, and also happy that I have two photos to show for it.
---
April 10, 2020 6:39 PM
Day 21 (Wednesday): Sometimes when my sister and I take a walk around the neighborhood we pass by this Indian restaurant. It always makes me want Indian food. I figured we could make chicken tikka masala since I bought this family pack of chicken breast.
What I didn't realize was the fact that we've been eating so much that we're really cutting it close on having enough for this recipe. But we just make it work. I also didn't realize how low we were on tomato paste. Whatever, we'll just omit that. And the chicken stock.
We also made creamed spinach, and my sister made some naan. We were a little worried since we didn't have any more yogurt and we barely had enough yeast. But it didn't matter! It was all delicious.
---
Day 22 (Thursday): I haven't had a noodle dish during the quarantine yet, and I have some vermicelli noodles left over from the spring rolls, so I decide to make Singapore noodles.
This recipe called for tofu, but I didn't have any, since I didn't plan to make this meal in advance. But I did have some shrimp so I threw that in instead. I actually think having the crispy tofu would have been nice. It wasn't bad, but I think it could have used a little more flavor.
Also, we're officially out of garlic now. We almost went grocery shopping today. But we stopped ourselves! We can last a whole week! I know it!
---
Day 23 (Friday): Our supply is seriously dwindling. But we have enough for my sister to make some Nikujaga (Japanese beef stew).
This is one of the dishes she made when she studied Japanese cuisine in school. It seemed easy enough for me to make it, though! And it was delicious.
At this point we're also out of soy sauce. Though I guess we still have some soy sauce alternatives. We're determined to last at least another day without shopping. Can we do it? Tune in to find out...
Showing posts filed under: indian food