I'm still cooking
September 4, 2022 7:44 PM
It's hard for me to have two active projects at once. I started my Teochew site in 2018, then took a break from it and started my food blog in 2019. Now that I'm working on the Teochew site again, it's hard for me to find the energy to devote to the food blog. But I did take a few pictures, so I wanted to share some of the things I cooked (or helped cook) over the past couple of weeks.
Bao wasn't the only exciting food I helped make while I visited my grandma's. We made fresh spring rolls every day for "pre-dinner snack". It seemed a little excessive, but it was delicious.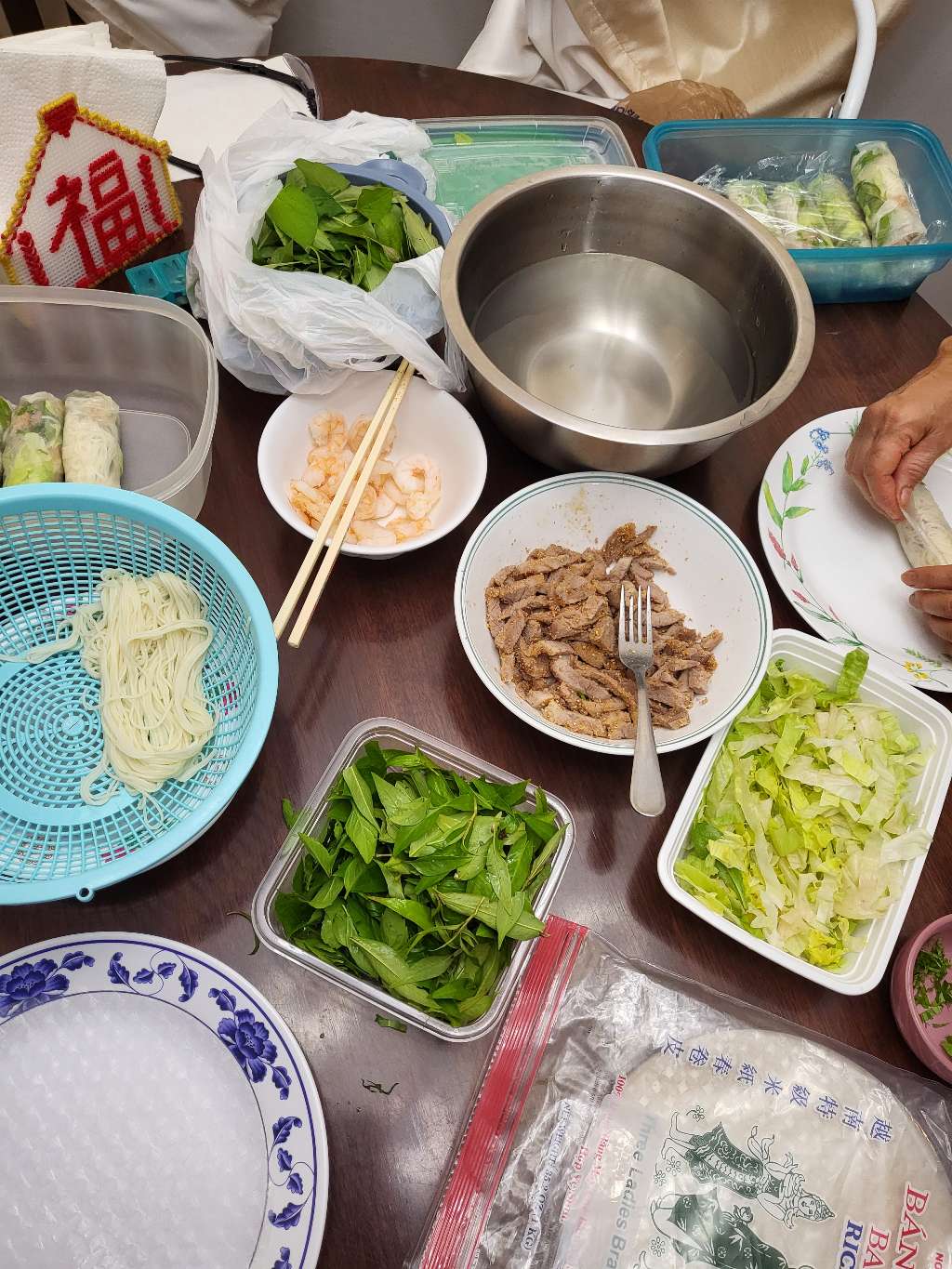 I need to figure out how my aunt prepared that pork. It was SO GOOD. On the first day, I just ate three spring rolls, but by the last day, I was eating five, which is more than I what I eat for a meal sometimes. It's okay. It's healthy.
When I got back, I made some strawberry pizza. (I actually made it twice!) My sister and I made this pizza way back when I first started the food blog, and it was one of my favorite recipes that we tried. I think it tasted good, but not as amazing as when I had it with my sister. On my second attempt, I added goat cheese, and I think that was a good addition.
Every other week, I have a "co-working day" with my friend, and after work we pick a dish to cook together. This week we made chicken tikka masala and a roasted eggplant salad. It was all very good, but my friend ended up replacing 1.5 teaspoons of chili powder with 2 teaspoons of ground red pepper in the tikka masala, and it was way too much heat for me. I usually only stick to 1/4 teaspoon if I add any hot pepper 🥵
Finally, my boyfriend requested some poke, and while I didn't have any sashimi grade fish on me, I did have half a pound of frozen shrimp. I cooked that and grabbed whatever poke appropriate ingredients I had for toppings. Poke is great because apart from the fish, I really don't have to plan for it at all. I always have poke ingredients in my kitchen.