November 29, 2020 11:39 AM
This past week was weird. It's the first time in my life that I'm not home with family on Thanksgiving. To make it feel more "Thanksgiving-y", I decided to cook a bunch of Thanksgiving food this past week! And by that I mean I cooked a bunch of American food, and after about two days of it I remembered something: I don't really like Thanksgiving food that much.
Anyway, I started off with some pulled pork because turkey is too much work, and it doesn't taste as good. And the pulled pork was delicious.
And then later that day I made some mac n cheese. I've had mac n cheese on my "to make" list for a while, and I've also had a pound of elbow pasta sitting in my pantry for who knows how long. I've always been a fan of baked mac n cheese, but after I cooked it, I totally regretted cooking a whole pound. Also, I'm definitely making a stovetop version next time.
Yeah, that was a lot. It's still a lot. The recipe said this was more like a casserole, and she wasn't kidding. Once you put it in the fridge, it just hardens and I feel like I have to microwave it for two minutes just to make it not shaped like a block. I've eaten about a quarter of it by now, and I don't think I can eat any more, so I cut it all up and threw it in the freezer. I'll figure out how to repurpose it.
I also made some collard greens. When I was talking to my aunt on the phone, she suggested it and I thought it was a great idea. The recipe I used wasn't bad, but I made a few tweaks. I cut the bacon before cooking it. I also added about a tablespoon of brown sugar to the recipe, which made it much better.
And finally, I made some sweet potatoes. I went with this cumin lime recipe because I have a bunch of lines in the fridge, but I also thought it was kind of weird to have a lime-y dish in my Thanksgiving meals. Oh well.
Yeah, I'm totally sick of Thanksgiving food now.
May 10, 2020 8:11 AM
Day 46 (Sunday): It's a grocery shopping day. We end up buying way too much food it seems (like always), but this might be the first time in a while that I wasn't as stressed out.
We ended up going to the Mexican grocery store, and I impulse bought some mini tortillas. My sister loves them! She just eats them as a snack! But we also used them for some chicken fajitas. Delicious.
---
Day 47 (Monday): I don't realize it yet, but it's the start of a very busy workweek. So busy I that I'm too pooped to cook. It's a good thing my sister is willing to cook.
Our fridge was getting crowded with all the groceries we got the day before, so we figured we should cook something that takes up too much space. Along with those tortillas, we also ended up impulse buying some collard greens. We actually had some collard greens on Friday when we got takeout, but it wasn't very good. My sister makes much better collard greens. We ate this with some leftover shepherd's pie.
---
Day 48 (Tuesday): I was probably at peak stress level on Tuesday. I ran into a problem at work that I couldn't solve, and I had no idea what to do next. Well, I didn't know what to do for work, but obviously I needed a break. Somehow we ended up with so many leftovers in the fridge, so we did another pairing of something freshly cooked with something leftover.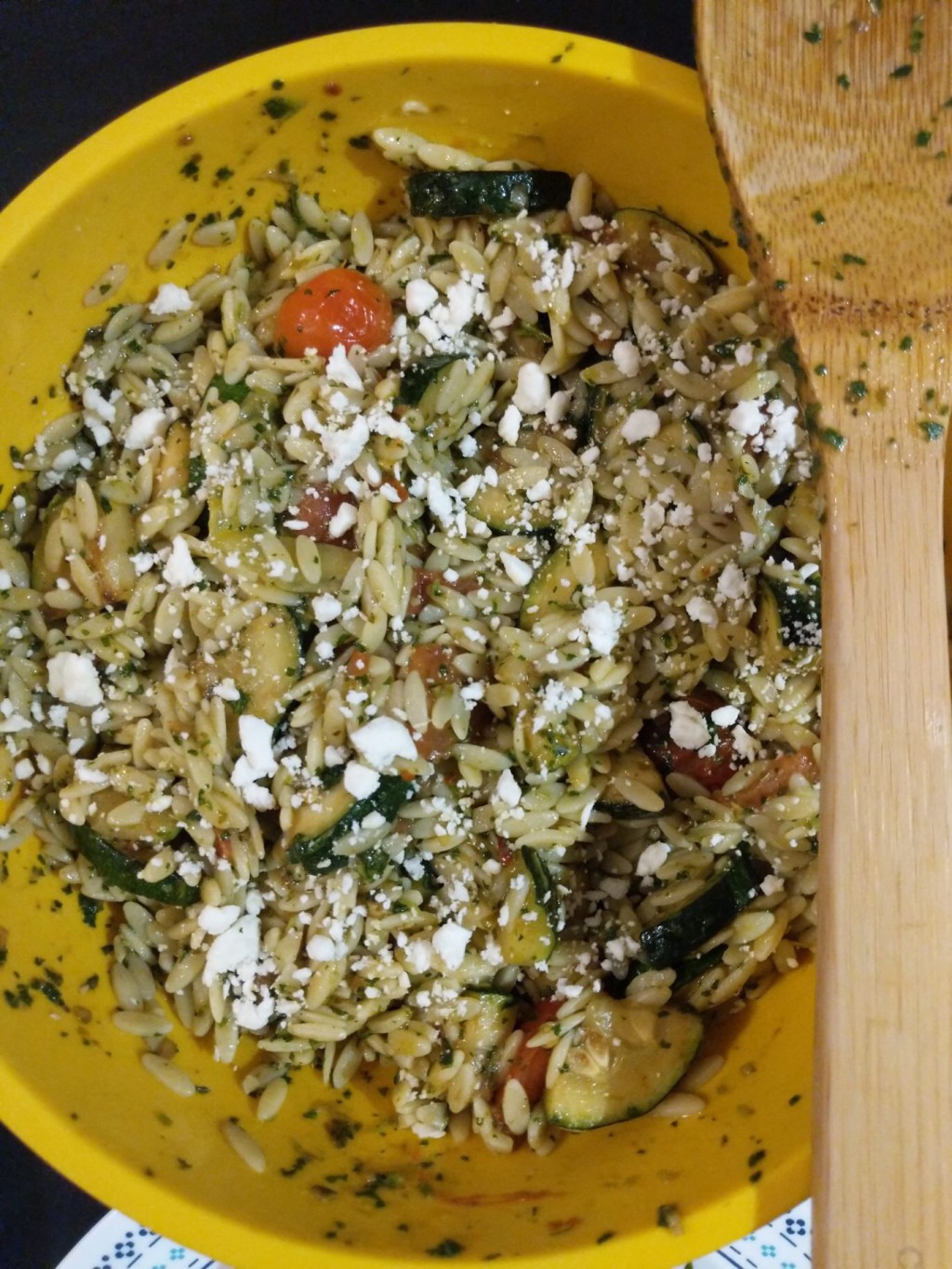 I had half a box of orzo sitting in my pantry, as well as a zucchini in the fridge that I needed to use up, so this was a good recipe to try. I'm usually not a huge fan of pasta salad, but this went well nicely with our leftover chicken piccata.
June 16, 2019 12:27 PM
I meant to write this blog post over two weeks ago. Then I got really busy, and I went on vacation, and now I don't really remember what I wanted to write about. But I have all these pictures so I should at least show them to you, and maybe looking through them will help jog my memory.
Remember how I subscribed to Misfits Market to get veggies delivered regularly? Well, I canceled it a while ago, but they did send me an email asking me to use their service again AND they gave me a complimentary box. I kind of feel bad because half of this box went to waste. It wasn't my fault though. The produce was sitting in transit for way too long and by the time it was delivered, the ice packs were completely melted, and the spring mix looked really sad. So, yeah, this free box didn't convince me to sign up again.
But, I did get an eggplant that I could use. I really like stir fried eggplant so I made Chinese Eggplant with Garlic Sauce. I know I didn't have any spicy bean paste or ground pork at the time, but it still tasted good without those ingredients.
And to go along with the Asian theme, I made some Sesame Chicken. This is a pretty old Budget Bytes recipe, and it was recently updated to double the sauce. I don't think it needs nearly that much sauce, so I would actually cut it in half now. So easy to make though, and very delicious.
It's really hard to tell from the picture of produce, but I did get some zucchini in a bag (why some things get put in bags, and others don't, I have no idea). Zucchini is not my favorite vegetable, as it reminds me too much of college cafeteria food, but turning it into Zucchini Fritters makes them a little better.
While I'm not a huge fan of zucchini, I really don't like butternut squash. It just tastes like a cross between a sweet potato and a pumpkin, but somehow much worse than either of those. I also don't know what I'm supposed to do with it except roast it or turn it into soup. They also take forever to cut up, which makes them not worth it to cook at all. But hey, this was free and I didn't want to waste it.
I do love salmon, though! This recipe came from a book, so I can't exactly provide a link. I still haven't quite mastered the art of baking salmon. I think I may have put it in the oven at 350 or 400 degrees for 10 minutes, and then broiled it for 5. This was waaay overcooked, but at least the rub was really tasty.
Also mango salsa to go on top of the fish! Because I had mangoes in the box!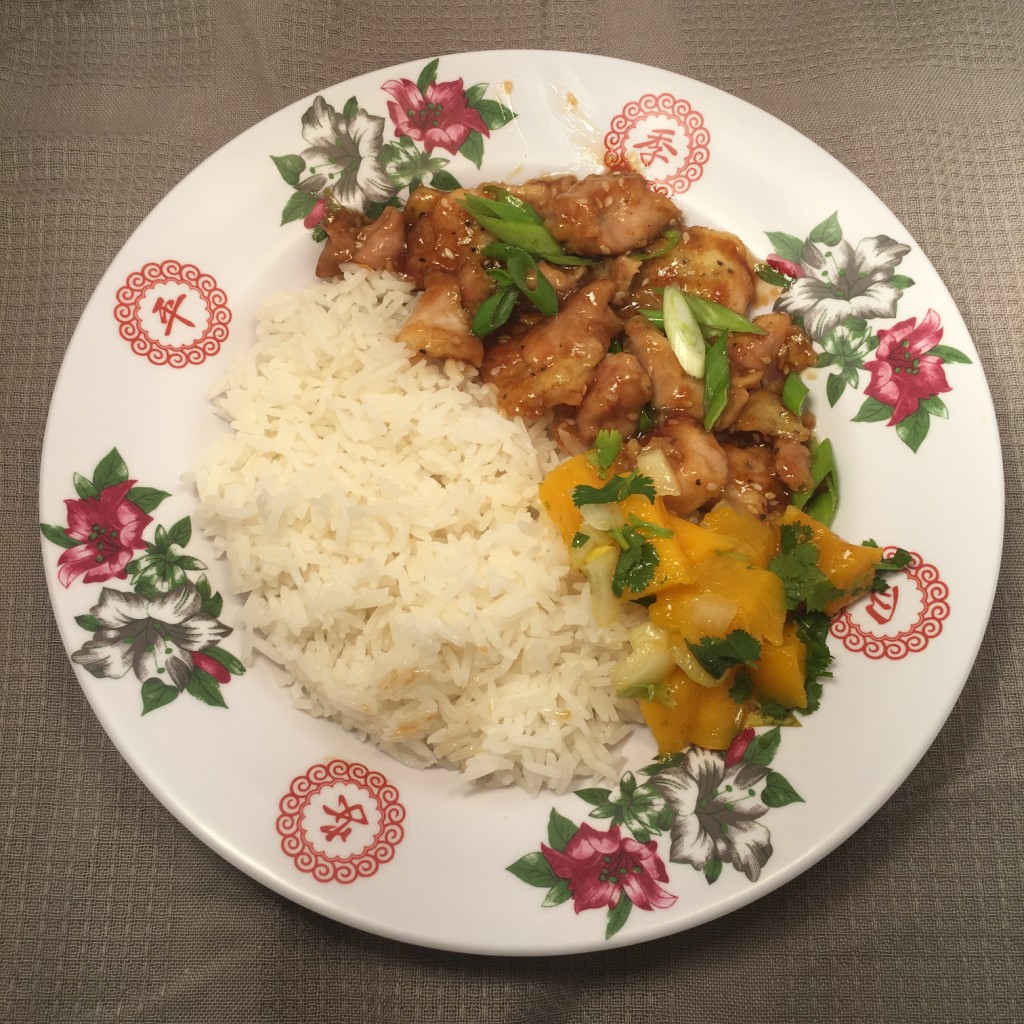 For some reason I thought the mango salsa would go with the sesame chicken. I don't think I'd pair the two again.
Oh yeah, I also made collard greens (because it was in the box!), but I neglected to take a picture of the collard greens by itself.
Not box related at all, but I also cooked Shrimp Scampi Florentine, with some pasta added. This dish is always delicious.
I had a dinner with friends where we all made pizza. Anytime I get to choose my own pizza toppings, I will always choose BBQ chicken. For some reason every time my family orders pizza, they ask me what pizza topping I want, I tell them barbecue chicken, and they give me a look and proceed to not get any barbecue chicken. It's okay. I can just make my own.
And finally, here's one last picture of that chicken rice skillet. Because I must have had leftovers from the week before and this picture looks nice.
And that concludes this long, not-very-cohesive post. Honestly, it'll probably be a while until my next post because my schedule is crazy and I'm not going to have too much time to cook. Maybe once the summer is over!