April 3, 2021 7:27 PM
I first learned what the word crave meant some time in elementary school. I distinctly remember this because once I learned what it meant, I used the word all the time. "I'm craving bananas." "I'm craving quail meat." "I'm craving some baby chicken eggs."
(You might think, those are weird things for a 10 year old to want to eat. You're probably right.)
I think my mom told me it was weird that I kept saying that because it made me sound like I was pregnant, so I stopped.
But I think about food all the time, and when I don't get to eat something that I even have a small desire for, it just grows and grows until I finally have some. I had a craving for pizza from Thanksgiving all the way until last month. The thing is, I actually ate pizza several times between Thanksgiving and last month, but none of it was hitting the spot. I was finally satisfied when I got a supreme pizza and a cheesy bread twist late one night after helping my friend move a bunch of stuff to her new house.
Two days after that, she sent me a photo of a burger that she got from the restaurant next door, and I thought, "Man, I want a burger." So, I bought a burger from a nearby restaurant. It wasn't great. I bought another burger from the same place she got her burger. It wasn't bad. I made myself some smash burgers.
It was fine, but it was literally just smashed ground beef, and I like burgers to have a little more flavor than that.
So, yeah, I still haven't satisfied that burger craving.
April 26, 2020 8:00 AM
Day 27 (Tuesday): Finally! Grocery shopping time! We go to Target since we need some non-food items, and then Trader Joes because Target is seriously lacking on actual food items. We made it to Trader Joes literally two minutes before the store closed. And I am pooped. My sister takes control of dinner because I am too exhausted to do anything else. Shopping is stressful during these times.
She made some Kimchi fried rice which was already on our list of things to make, but the lack of eggs made that harder. And you just need that egg on top. Look at how good that looks. It tasted great too.
---
Day 28 (Wednesday): We have eggs! And fruit! And other foods! It's amazing! Anyway, I had Mac n Cheese on my list of things to make, and we finally had the ingredients to make it.
What a classic American meal. This was pretty good, but I don't think I'll use shells if I make mac n cheese again. I guess I should have called this shells n cheese. They have a tendency to get inside each other.
---
Day 29 (Thursday): We still had leftover Indian food, but we were all out of naan, so my sister made some paratha, which is an Indian flatbread. She was so so so excited about it, and even more excited when she tasted it. It was deeelicious.
For dinner that night, we made burgers. I saw a picture of a burger a few weeks ago and since then it's been on my list of things to make.
You can never go wrong with a homemade burger. Burgers are always better when they're homemade.
I wanted a picture of one of us holding up the burger but it was way too messy. I guess that's a good thing though.
September 6, 2019 6:19 PM
This past weekend was Labor Day which meant three day weekend, which meant four day workweek, and you'd think that it would be easy to get through, but I feel like I need to catch up on sleep again. I was so busy during the week that I didn't wash dishes for a whole three days, and you can imagine how gross that got.
I also somehow ended up with so much food in my fridge, so I've really been trying to eat all my leftovers. But, on to what I cooked this week.
---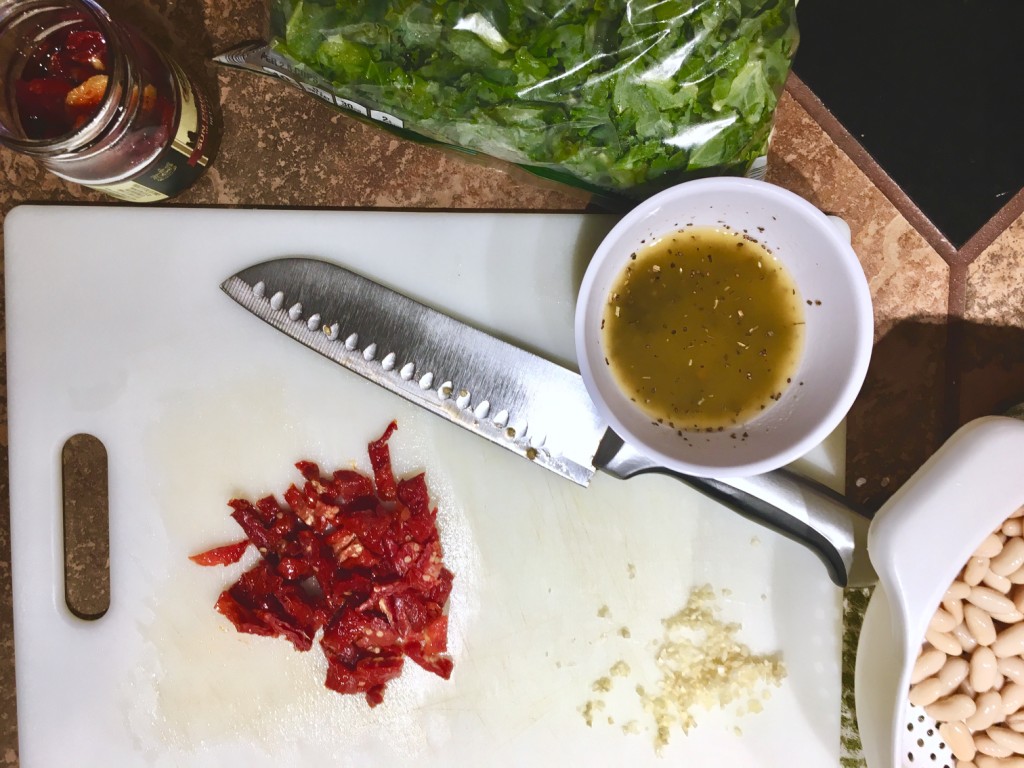 Remember how I made kale salad last week? Well I still had half that bag of kale left. So, I needed to do something with it, and I wanted to actually cook the kale this time. I don't know what it is, but I still haven't quite mastered the art of making salad. I think salads that I've gotten from restaurants are delicious, but my homemade salads are never quite fulfilling enough.
So, I made this kale skillet. It was alright, certainly better than the salad. The recipe said to saute the kale for 3-5 minutes which I think is way too long. Just a minute should be good enough. I really am sick of eating kale at this point though. I added some shrimp to this for one of my meals, which made it a lot more satisfying.
I took this with the fork laying straight up and down, but it seems so much nicer on an angle.
---
I might be bad at making salad, but I think I've got burgers down pretty well. I love burgers, but I'm almost always disappointed when I order one from a restaurant. They never have enough flavor. It's just cooked ground beef, and I'd like that beef to be transformed more.
I've had burgers on my to-make list for a while, and I figured it was appropriate to make them on Labor Day. This Drunken Aussie burger recipe had a lot of great reviews, so I figured I'd try it. And like every burger I've ever made, it was delicious. But I actually think that was mainly because of all the other toppings, and not the burger patty itself, which was a little on the bland side. Adding the beer helped, but it still felt like it was missing something. I think adding an egg in the ground beef mixture would have made it easier for the patty to stick together.
The recipe also said to use two different pans, which seemed excessive to me. I cooked all of it in the same pan in this order: bacon, onion, (wipe pan), egg, burgers. I'm happy with how it all turned out, but I don't think I'll be using this recipe again.
But hey, check out this salad that I added on the side! Since the burger called for arugula, I bought a (way too large) box of it, and I used it in a side salad as well. And I know I said I'm bad at making salads, but my "Arugula Strawberry Sun-Dried Tomato Salad with Balsamic Dressing" was decent.
---
Finally, I'm gonna end with this Cajun Shrimp Toast, which is another recipe that was on my to-make list for a while. This was also delicious, and I'm definitely making this again. I think it would be great as an appetizer during Christmas or some sports watching party. I don't remember exactly how many pieces of toast this yielded, but I ate more than half of them in one sitting.