December 5, 2020 8:01 PM
I feel like I cooked so much this week, and yet didn't cook enough at the same time. This must have been why I took a break from the blog for so many months.
So, the good thing about this Creamy Mushroom Herb Pasta was that it was easy to make and tasted good. The bad thing is that it's pasta, and pasta leftovers are not great. 5/5 right after I finished cooking, 2/5 the next day. It definitely had a different texture after reheating. Less creamy, more...sticky? It also kind of lost some flavor, so I was sprinkling some garlic salt on it when I ate the leftovers.
I had actually bought those mushrooms to put in a green bean casserole, but you know I got sick of Thanksgiving food, so I never ended up getting to it. However, the sauce for this basically tasted like a more refined cream of mushroom. So it was like I ate green bean casserole without green beans. Which is...a little disappointing when you think of it that way.
I also totally forgot that I had thyme in my freezer, and I used dried thyme instead. Missed opportunity there. Will I make this again? Maybe. Maybe if I just happen to have all the ingredients for it, which is what happened this time.
I think this okonomiyaki turned out a little better than the pasta though. I actually think the pasta tastes better right after cooking, but these pancakes held up better as leftovers. But maybe that's just because I reheated it in the pan. I didn't give the pasta the same treatment.
My sister made okonomiyaki earlier this year, but she used a much more authentic recipe than the Budget Bytes one. I am not at her level, so making a Japanese dish from an American blogger is more at the level I can handle. I did make the okonomiyaki sauce from Just One Cookbook though. I also put shrimp in these! (I know you can't tell from the pictures)
Pancakes from a box are already a lot of work, so making these cabbage pancakes was a little draining. It's just so time consuming when you have to cook them one at a time. I don't think I quite got the hang of it. Why do pancakes always look nice on one side but bad on the other? I think I was hoping it would turn out a little crisipier, but it still ended up tasting good.
Also, I still have more cabbage!
Finally, I made some candied bacon. I've done this once before, and I think it turned out better the last time. I think I need to make sure I'm really applying pressure on the bacon while it's cooking. I also used thick cut this time and that probably added to the cooking time.
But candied bacon is always delicious, whether that's right out of the oven, or eaten the next day.
April 25, 2020 5:57 AM
So I've been verybusy at work lately, which is why I haven't posted an update in a while. When I start working on a project at work my mind is just in this "I NEED TO FINISH THIS" mode and I can't work on other things. Anyway, I've found a stopping point, so it's time to catch up on blog posts.
---
Day 24 (Saturday): I have decided to take inventory of all my food. That's right. Everything in my kitchen.
I had already been doing this, but I finally took inventory of my herbs, spices, sauces, etc. Yes, this is what I stare at every day when I decide what to cook and what leftover to eat for breakfast or lunch.
Before I get to the dinner portion of this, check out this super aesthetic coffee my sister made.
So tonight's dinner was Nam Sod (Thai pork salad). I had about a pound of ground pork sitting in the freezer, but what I really needed to use up were some super sad looking limes.
We ate it both with rice and in lettuce wraps. I thought it was great, though my sister prefers something sweeter. Adding some Thai basil would have made this even better though!
---
Day 25 (Sunday): We decide to go grocery shopping. On a Sunday. But we didn't think about what Sunday it is. EASTER. That's right, all the stores are closed except Whole Foods. And Whole Foods has a line that wraps around the building. We decide to head back home. We'll survive.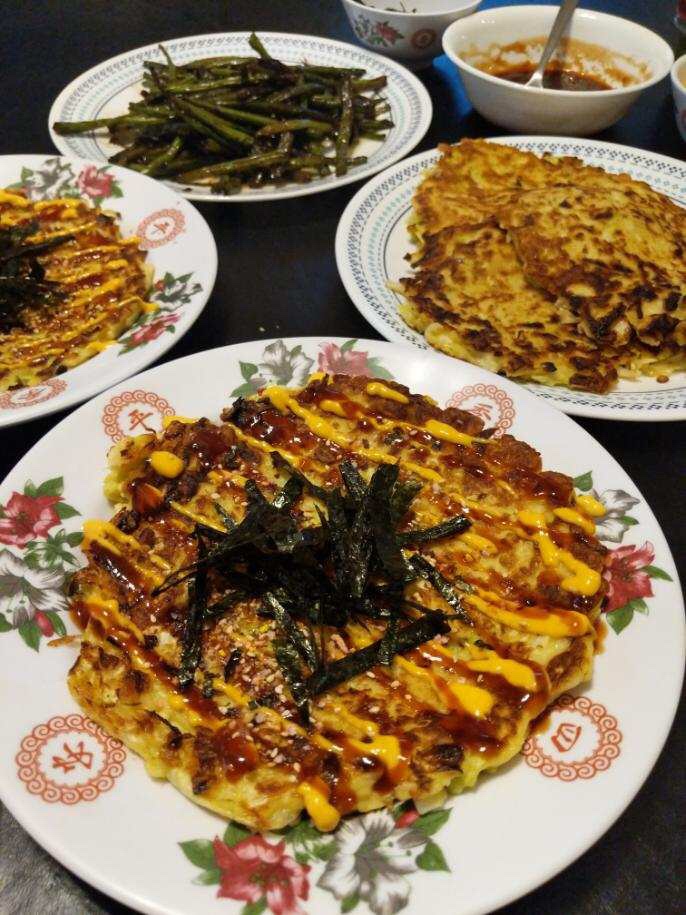 Since we have about half a head of cabbage in the fridge, we decide to make Okonomiyaki. It was delicious. We also had some green beans that seemed like they were going to go bad soon, so we fried those up as well. Of course at this point we're starting to struggle a little with what ingredients we had left. We used up the rest of our eggs for this meal!
---
Day 26 (Monday): We also wanted to go grocery shopping this day, but for some reason my stomach wasn't feeling so great, so we stayed home again. It's okay. We had some salmon in the freezer and some broccoli in the fridge so we made a quick meal out of that.
Unfortunately I didn't let the salmon thaw all the way before putting it under the broiler so that was a bit of a struggle to get it cooked completely. I'm still learning how to use that broiler properly. But the rub we added to the salmon was great, and the meal overall was delicious.
At this point, we were out of garlic, soy sauce, milk, fruit...we absolutely needed a grocery trip.