July 12, 2019 5:21 PM
I feel like I keep telling people about this $30 a week challenge that I really want to try, but keep failing at. Well, this past week was the first week in a while that I could actually cook, and so I tried the challenge again. And I did it! I spent $27.79 on food, and that's even including eating out once. And this "week" actually started Thursday night of last week, and went til today. So it's technically longer than a week.
Okay, so maybe this was cheating, but I had a bunch of frozen seafood already on me. Including crab legs, which I bought a month ago since they were on sale. It was a good thing I had them, plus romaine lettuce because that meant when I drove back from my family's place, I didn't have to buy groceries that same night.
And wow, romaine lettuce really does keep for a long time in the fridge. I'm pretty sure they were sitting there for a month, but they still seemed perfectly fine for eating this past week. I was able to make a few Caesar salads with shrimp (yup, I also had that in my freezer already). I considered buying croutons, but then I had this wonderful idea to just toast a bagel (that I did buy this week) and cut it up into little cubes. It turned out great, but I definitely need a break from romaine lettuce for a while.
Look, I had scallops already in my freezer too! But only scallop pieces, because I'm cheap like that. (Yep, this definitely feels like cheating) I looked up scallop recipes and decided to make Garlic Butter Scallop Bowls from Damn Delicious. (Technically, I used Budget Bytes's Cilantro Lime Rice recipe) I still don't quite understand the key to making good scallops, though the fact that I used the scallop bits and pieces probably didn't help. I really liked the flavor of them though. I wasn't as huge a fan of the pico de gallo. I feel like it had a little too much lime, so I'll have to look for a different recipe for that next time.
In trying to really stay under budget, I decided to make some shrimp burrito bowls, since I could utilize some of the unused pico de gallo, cilantro lime rice, and romaine lettuce. All I needed to buy specifically for this dish was a can of black beans. I used the shrimp and black bean parts of Budget Byte's Chili Lime Shrimp Bowls recipe. It was delicious.
Okay, not everything I made utilized impulse-bought seafood from the past. Of course I had to make some tacos too. I used Damn Delicious's Mexican Street Tacos recipe. Instead of using skirt steak, I actually found pre-cut beef at Aldi, which was also cheaper than their skirt steak, so win-win. I also used sweet onions instead of red onions because I think sweet onions are far superior.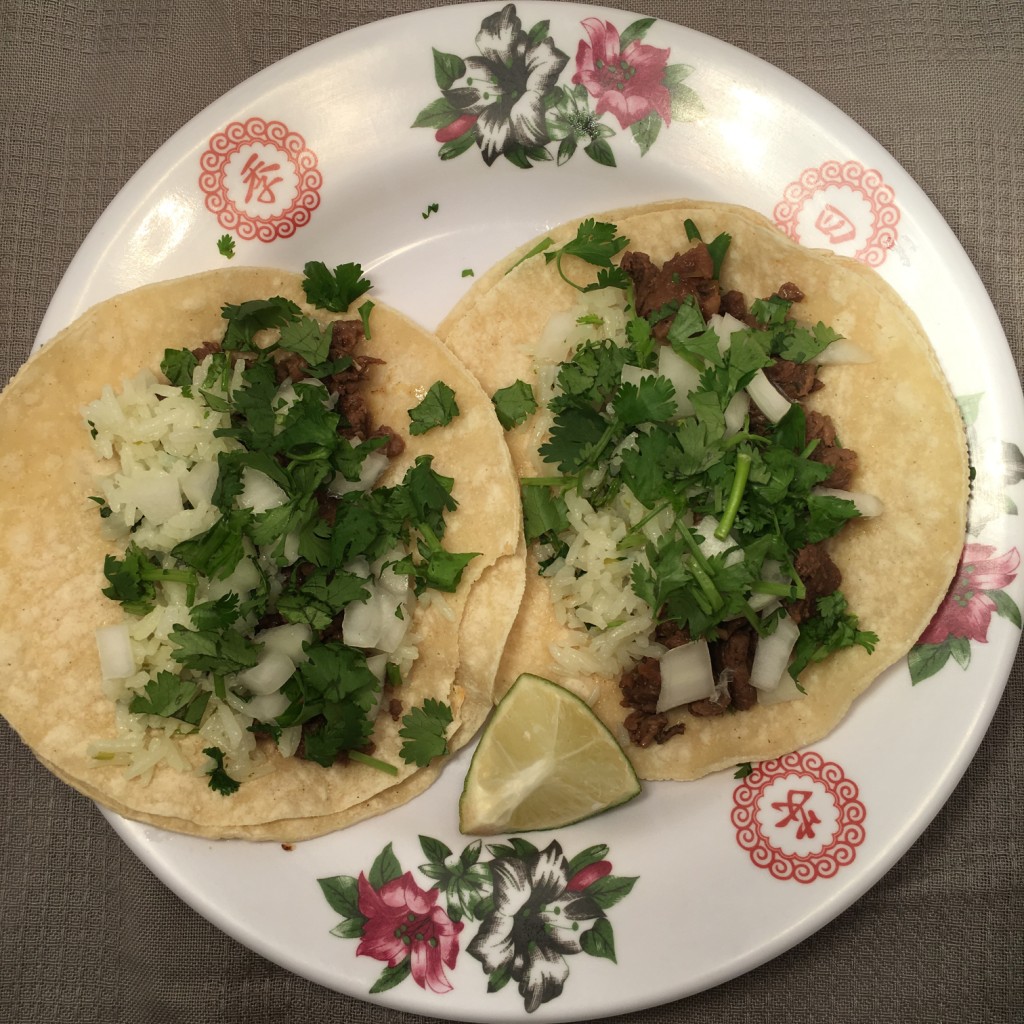 So, I will be attempting to stay under $30 again next week. And maybe it'll feel less like cheating with less seafood already in freezer.
March 10, 2019 12:30 PM
I've had scallops sitting in my freezer for way too long (since you know, I impulse buy seafood) and I finally cooked them.
Of course I'm still too cheap to buy the whole scallops, and instead go for the bag that has the smaller pieces. I saw Baked Scallops on Skinnytaste, which was super easy to make.
And like every other meal, I need to have vegetables. I looked for a quick broccoli recipe and I saw Sheet Pan Roasted Broccoli on Damn Delicious. I was paying very close attention to my broccoli this time, so I wouldn't overcook it! I cut my broccoli into pretty small pieces, and 12 minutes was plenty of time in the oven. In fact, I might need to cook it for even less next time.
We cooked one pound of scallops and about 3/4 of a pound of broccoli, and there definitely was not enough food to have leftovers.