May 5, 2020 8:00 AM
Day 42 (Wednesday): During this whole quarantine, I've made sure to have chicken breast stocked at all times. I know chicken breast is kind of boring, but my sister has gotten really good at cooking it well.
Seriously, it was really good chicken. We also had some scalloped potatoes and asparagus to round out the meal.
What a nice fancy, American meal.
---
Day 43 (Thursday): After eating that chicken and that shepherd's pie, I was starting to feel really sluggish, so I wanted to have something a little bit lighter. I stared at my whiteboard for a while until deciding on making some Greek chicken wraps.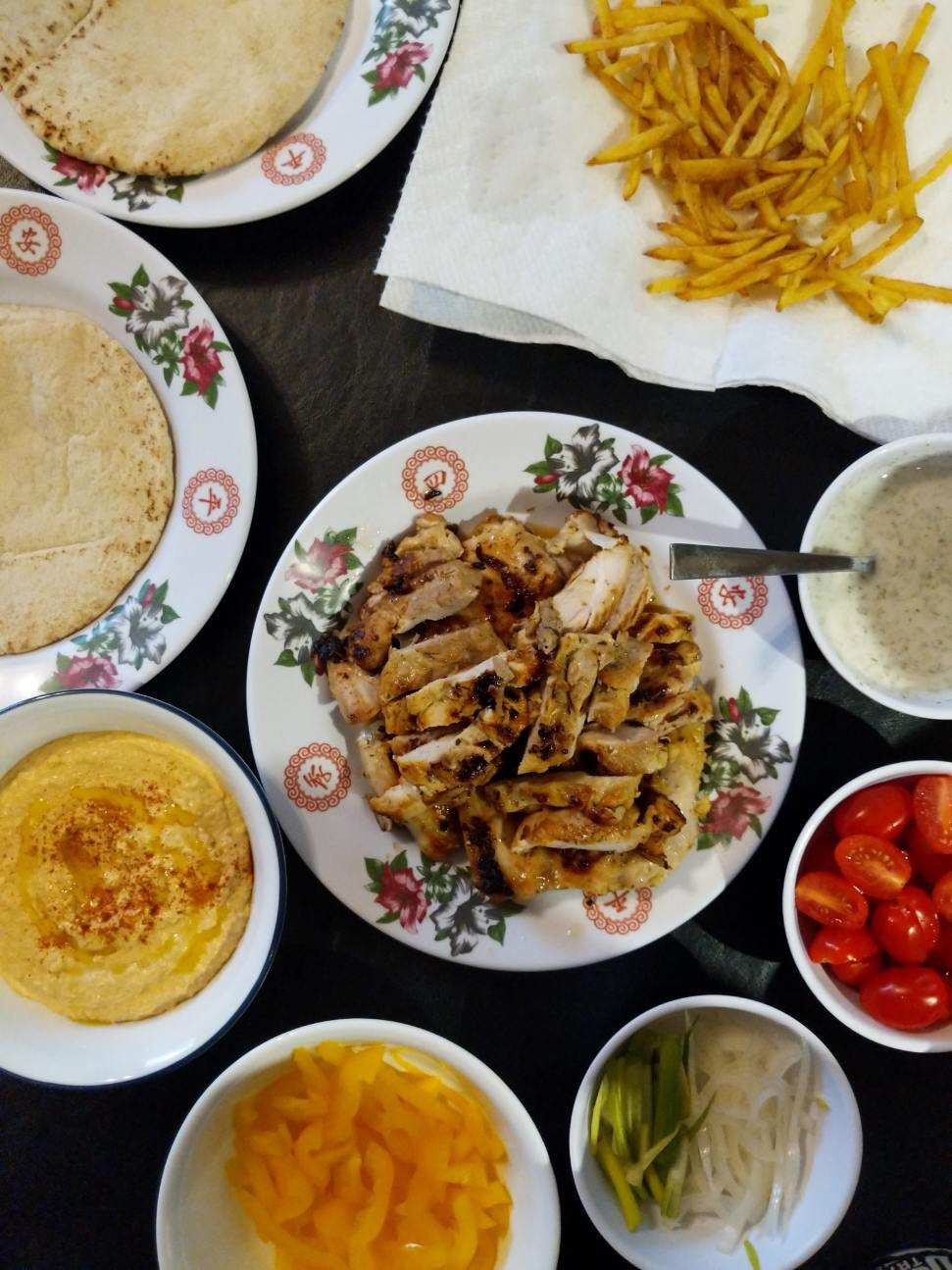 Except I had pita bread, so it wasn't actually wrapped. My sister also made me some french fries since I told her I really wanted some (: We had to be a little creative for the hummus, since I realized in the moment that we didn't have any lemons. We replaced that with some vinegar and orange, which was a really strange combination. Not my favorite hummus, but it was still edible.
The sandwiches all put together were really good though! Once again, my sister did a great job cooking the chicken.
---
Day 44 (Friday): We ordered takeout. Yup, we finally supported a local business and got some fried chicken. It was alright. The cornbread was dry. I don't take pictures of food I eat at a restaurant, so I don't have a picture of the fried chicken we ordered.
---
Day 45 (Saturday): Rounding out the American-ish meals, we decided to make meatloaf!
We put the dry cornbread in this, which I think was a good use of it. I think it turned out great.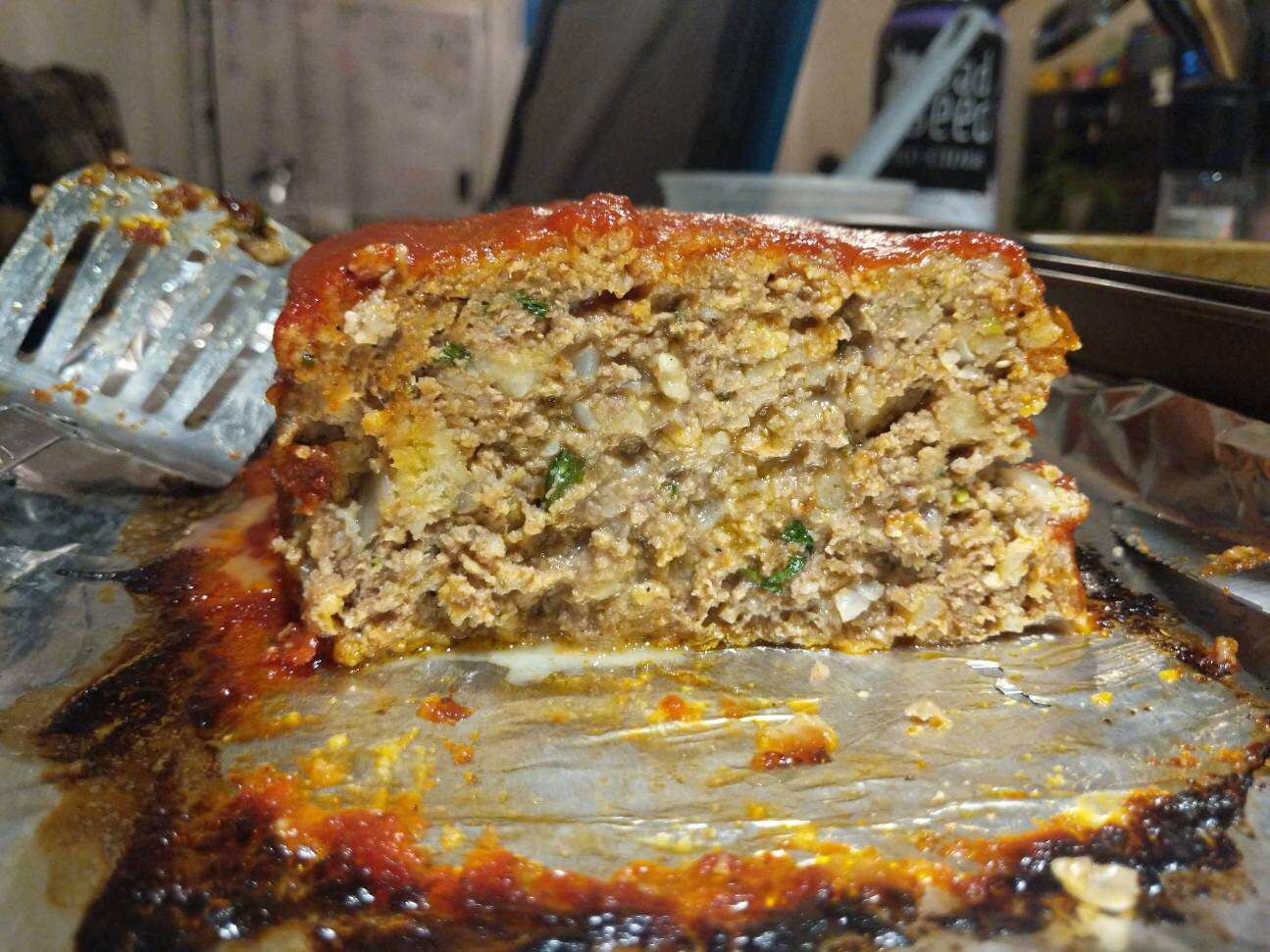 I know meatloaf isn't very visually appealing, but it had really good flavor. My sister loved it.
Sunday we're hitting up the Asian store and the Mexican store, so that'll spice up our meals for next week.
March 5, 2019 11:30 AM
I'm trying really hard this month to cook using the food I have and to not go to the grocery store almost every day. Yes that's right, I go to the grocery store almost every day. I found Sheet Pan BBQ Meatloaf Dinner from Budget Bytes, and I already had everything in my kitchen so I avoided a trip to the store yesterday!
The recipe said to roast the broccoli for 35 minutes, and we roasted it for 20 and that was way too long. Also I need to make sure that I cook the meatloaf and the broccoli in a separate pan next time. Broccoli with meat juices does not taste right.
I also forgot to flip the sweet potatoes halfway through, so they all just got really dark on one side.
I actually still have more broccoli and sweet potatoes, so I'll need to find more recipes that use them.
February 7, 2019 4:30 PM
I bought a loaf pan last month, so I've been meaning to make meatloaf for a while. I found this Thai Turkey Meatloaf recipe from Budget Bytes. And I know we just had ground turkey last week, but for some crazy reason all the recipe sites I look at exclusively make meatloaf with turkey.
She put rice inside of the meatloaf! Maybe that's what makes it Asian. We cut the recipe in half because 2 whole pounds of turkey seemed like a bit much.
For the most part we followed the recipe, but I probably used five times as much ginger as the recipe called for, and I used red onions instead of green. Can you believe Aldi was out of green onions?! This is the fourth time this has happened this year!
To go with the Asian meatloaf, we also made these Sweet and Spicy Brussels Sprouts from How Sweet Eats. I liked the flavor, but I think the sauce needs some adjustments. Next time I'll only use 1 tablespoon of chili garlic, 1 tablespoon of soy sauce, and I'll cut every other sauce ingredient in half.
Overall, it was very Asian American. I found the meatloaf to be very sweet and the brussels sprouts to be very soy sauce-y, but the flavors worked well together.