May 10, 2020 8:11 AM
Day 46 (Sunday): It's a grocery shopping day. We end up buying way too much food it seems (like always), but this might be the first time in a while that I wasn't as stressed out.
We ended up going to the Mexican grocery store, and I impulse bought some mini tortillas. My sister loves them! She just eats them as a snack! But we also used them for some chicken fajitas. Delicious.
---
Day 47 (Monday): I don't realize it yet, but it's the start of a very busy workweek. So busy I that I'm too pooped to cook. It's a good thing my sister is willing to cook.
Our fridge was getting crowded with all the groceries we got the day before, so we figured we should cook something that takes up too much space. Along with those tortillas, we also ended up impulse buying some collard greens. We actually had some collard greens on Friday when we got takeout, but it wasn't very good. My sister makes much better collard greens. We ate this with some leftover shepherd's pie.
---
Day 48 (Tuesday): I was probably at peak stress level on Tuesday. I ran into a problem at work that I couldn't solve, and I had no idea what to do next. Well, I didn't know what to do for work, but obviously I needed a break. Somehow we ended up with so many leftovers in the fridge, so we did another pairing of something freshly cooked with something leftover.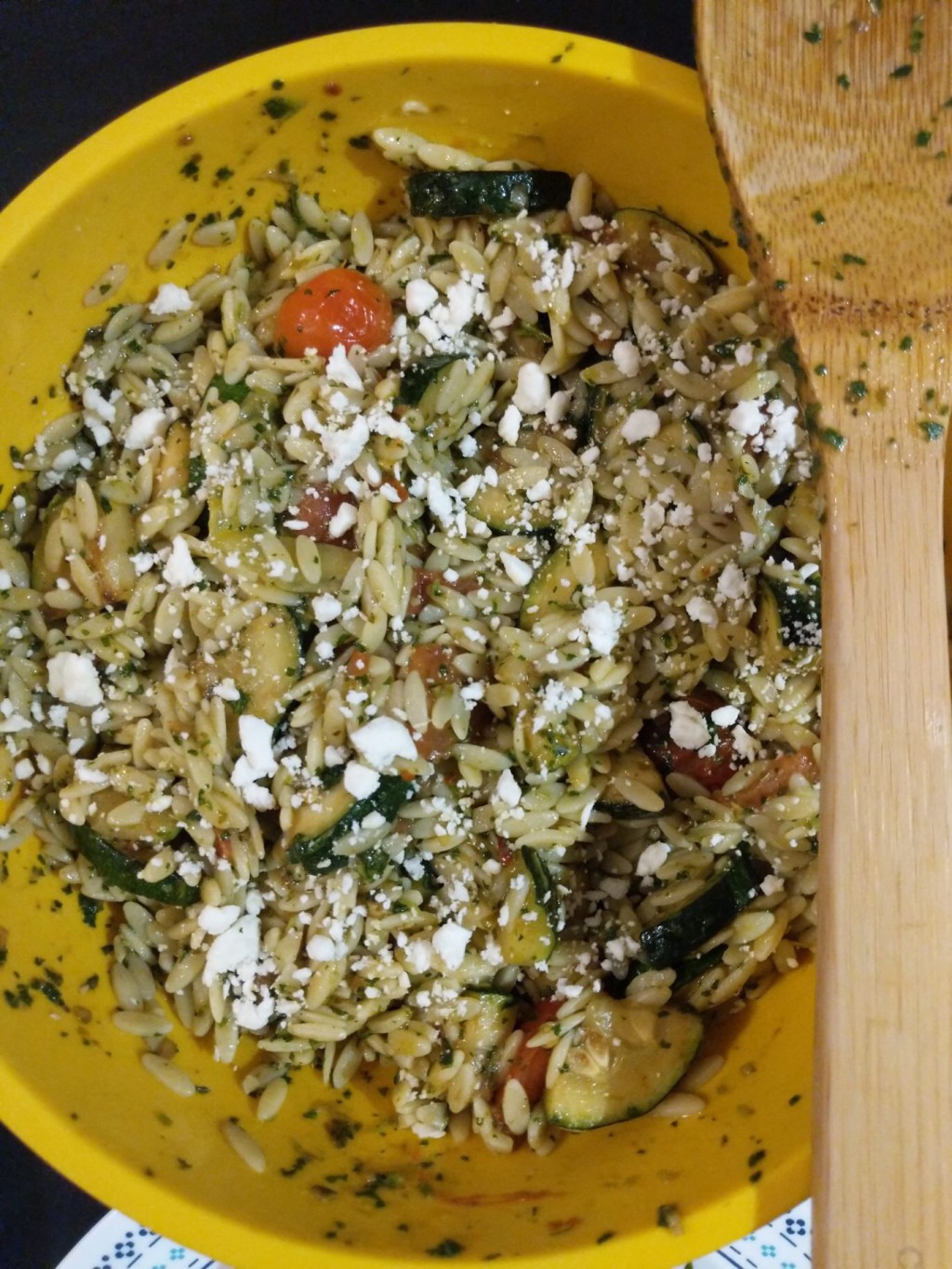 I had half a box of orzo sitting in my pantry, as well as a zucchini in the fridge that I needed to use up, so this was a good recipe to try. I'm usually not a huge fan of pasta salad, but this went well nicely with our leftover chicken piccata.
---
March 16, 2019 12:30 PM
Lately my meals have been inspired by random foods that are on sale at the grocery store. I decided to get some extra chicken breast (in case I needed a little more for that pizza), and it was on sale for $1.48/lb which I figured was a decent price. I also saw these 1lb bags of green beans for $1 each, and I impulse bought two of them.
I used two Woks of Life recipes. With the green beans, I decided to make Sichuan Dry Fried String Beans. I ordered this at a local Chinese restaurant once and they were delicious. They were also like $10, so when I saw that Woks of Life had a recipe for it, I had to try it.
Originally, I had intended to use both bag of green beans, but we ended up saving the second one for a different recipe. But that's why there's so much pork. I think I'll use a lot less pork next time, or even omit it completely.
We also made Thai Chicken Stir-fry with Basil and Mint. Except we didn't use mint. This had a very strong fish sauce smell, which is great, since I love fish sauce. I probably should have doubled the basil since I didn't use mint.
So delicious and way cheaper than takeout
---
January 25, 2019 6:34 PM
Yeah, I wasn't kidding with my last post.
I don't impulse buy very often when I'm at the grocery store, but when I do, it's almost always seafood. And seafood goes on sale at least once a month. So I guess I impulse buy a lot. I got a frozen bag of shrimp the other day, and I had a single tomato in my fridge that needed to be used, so I decided to make Super Simple Shrimp Tacos from Budget Bytes.
I think the recipe is pretty fantastic on its own, but I had to modify it to fit what I had in the kitchen.
I only cut up one tomato...because that's all I had.
I used "Asian Chopped Salad" mix instead of an iceberg salad mix. Because I don't know when iceberg lettuce is ever the ideal vegetable to use for anything.
I cooked a whole 1.5 lbs of shrimp. There is more than enough marinade for it.
And I turned the sour cream into Lime Crema. With cilantro! That's what really takes it over the top.