December 5, 2020 8:01 PM
I feel like I cooked so much this week, and yet didn't cook enough at the same time. This must have been why I took a break from the blog for so many months.
So, the good thing about this Creamy Mushroom Herb Pasta was that it was easy to make and tasted good. The bad thing is that it's pasta, and pasta leftovers are not great. 5/5 right after I finished cooking, 2/5 the next day. It definitely had a different texture after reheating. Less creamy, more...sticky? It also kind of lost some flavor, so I was sprinkling some garlic salt on it when I ate the leftovers.
I had actually bought those mushrooms to put in a green bean casserole, but you know I got sick of Thanksgiving food, so I never ended up getting to it. However, the sauce for this basically tasted like a more refined cream of mushroom. So it was like I ate green bean casserole without green beans. Which is...a little disappointing when you think of it that way.
I also totally forgot that I had thyme in my freezer, and I used dried thyme instead. Missed opportunity there. Will I make this again? Maybe. Maybe if I just happen to have all the ingredients for it, which is what happened this time.
I think this okonomiyaki turned out a little better than the pasta though. I actually think the pasta tastes better right after cooking, but these pancakes held up better as leftovers. But maybe that's just because I reheated it in the pan. I didn't give the pasta the same treatment.
My sister made okonomiyaki earlier this year, but she used a much more authentic recipe than the Budget Bytes one. I am not at her level, so making a Japanese dish from an American blogger is more at the level I can handle. I did make the okonomiyaki sauce from Just One Cookbook though. I also put shrimp in these! (I know you can't tell from the pictures)
Pancakes from a box are already a lot of work, so making these cabbage pancakes was a little draining. It's just so time consuming when you have to cook them one at a time. I don't think I quite got the hang of it. Why do pancakes always look nice on one side but bad on the other? I think I was hoping it would turn out a little crisipier, but it still ended up tasting good.
Also, I still have more cabbage!
Finally, I made some candied bacon. I've done this once before, and I think it turned out better the last time. I think I need to make sure I'm really applying pressure on the bacon while it's cooking. I also used thick cut this time and that probably added to the cooking time.
But candied bacon is always delicious, whether that's right out of the oven, or eaten the next day.
October 6, 2019 1:44 PM
I had a really busy past couple of weeks, so much so that I didn't do any cooking. My body definitely was not happy with all the fast food I was putting in it, so I've been able to get back to cooking again. What I haven't really been doing is taking nice pictures, so I'll just show a few things I've cooked in the past few months that somehow haven't made their way onto the blog yet.
---
Tacos!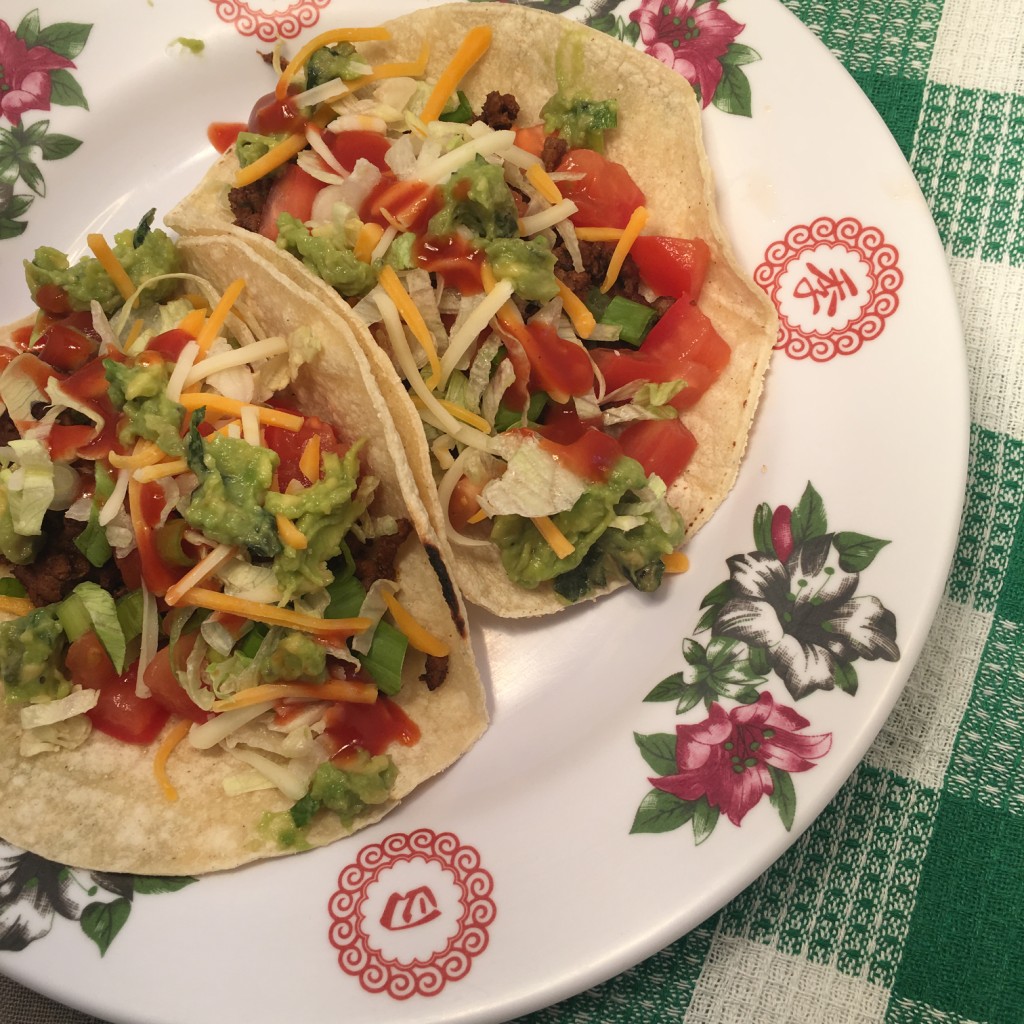 I never got around to editing this one
I rarely make ground beef tacos, since it's one of my least favorite taco meats, but it is easy. I used Budget Bytes' Taco Seasoning recipe which I think tastes way better than those pre-made packets.
---
I was really proud of myself for making this recipe, not because of how it tasted, but because I finally used and washed my cast iron skillet! The whole, having to re-season it was kind of intimidating to me, so I always had my sister wash it when she was staying with me. The potatoes were good, though!
---
This is one of my go-to easy, vegetarian recipes that I use. Sweet potatoes as a taco filling work surprisingly well, but I think it's the lime crema that makes this recipe really good. I'm not a huge fan of sour cream, but if I mix lime, garlic, and some salt in it, it's delicious.
---
Candied Bacon
I had been wanting to make candied bacon for a while, and since I had a few slices of bacon leftover from some other recipe, I figured I'd give it a try. It was delicious and super easy to make. I think I'm always going to candy my bacon from now on.