My pasta keeps falling apart
September 11, 2022 10:26 PM
Yup, my brain is super focused on the Teochew site, and even though I'm not working, I still don't have enough time to do everything that I want to do! But, I've got time for some easy meals. I made Tomato Basil Pasta because I wanted to use up the rest of my ricotta.
So I buy some pasta, two pints of tomatoes, and some incredibly overpriced basil. My boyfriend noticed that there were 3(!!) boxes of pasta in my "pantry" (it's a container that sits on my counter) and he wondered why I needed so much pasta.
Well, we were very low on rotini, and we had a full box of ditalini, but ditalini is so tiny! I wanted bigger pasta pieces! So I bought a box of penne.
Cooking this was pretty easy. Just cut up the tomatoes, basil, and garlic and throw it all in the pan. But as I was boiling the pasta, I noticed that it was...weird looking. Kind of grainy. The rotini was fine, but the penne was not looking good. It was completely falling apart. I didn't even cook it for that long! It was probably around 8 minutes total, and the box says to cook it for 11-13 minutes. If I did that, it would be mush!
I must have gotten a really bad batch of pasta. It was from Aldi, so it's not the highest quality stuff, but I've bought penne from Aldi plenty of times in the past and I've never had pasta fall apart like that.
But, I guess it tasted good enough. I also still had half a box of it leftover, and I barely made a dent in my container of ricotta so I made the dish again. This time I decided to grocery shop at Trader Joe's, which was a good idea in theory, but it was a Sunday afternoon and it was packed, and as I stood in the store I wondered why I had done this because this is exactly what I've been trying to avoid during my sabbatical.
Never, never, NEVER, go to Trader Joe's on a Sunday. Same goes for Whole Foods.
On the bright side, basil from Trader Joe's was both a larger amount AND cheaper! So I should absolutely go to Trader Joe's for Italian basil in the future. (in the middle of the workday)
Aaaand, they had pumpkin mini cones! I had been so excited to try these last fall, and I never saw them, so this was a pleasant surprise.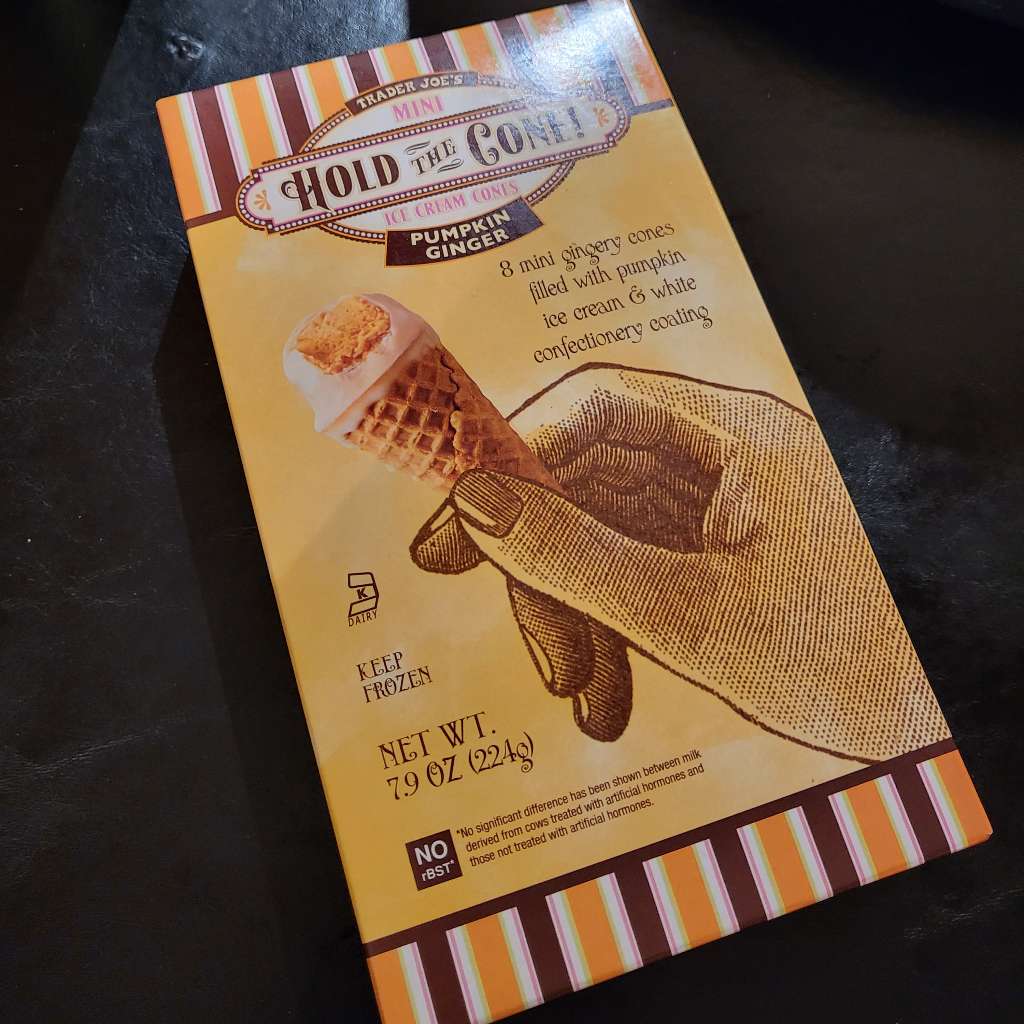 Yeah, my pasta fell apart again. That's okay. I expected it. I'll still give Aldi penne another chance.