Social Distancing: Days 7 - 9
March 30, 2020 8:00 AM
Day 7 (Wednesday): So during my multi-grocery store excursion, I impulse bought some Ahi Tuna, because of course I did. And because I was out for three hours, that gave plenty of time for that slab of tuna to already start thawing, so I figured we might as well keep it in the fridge and have Poke the next day.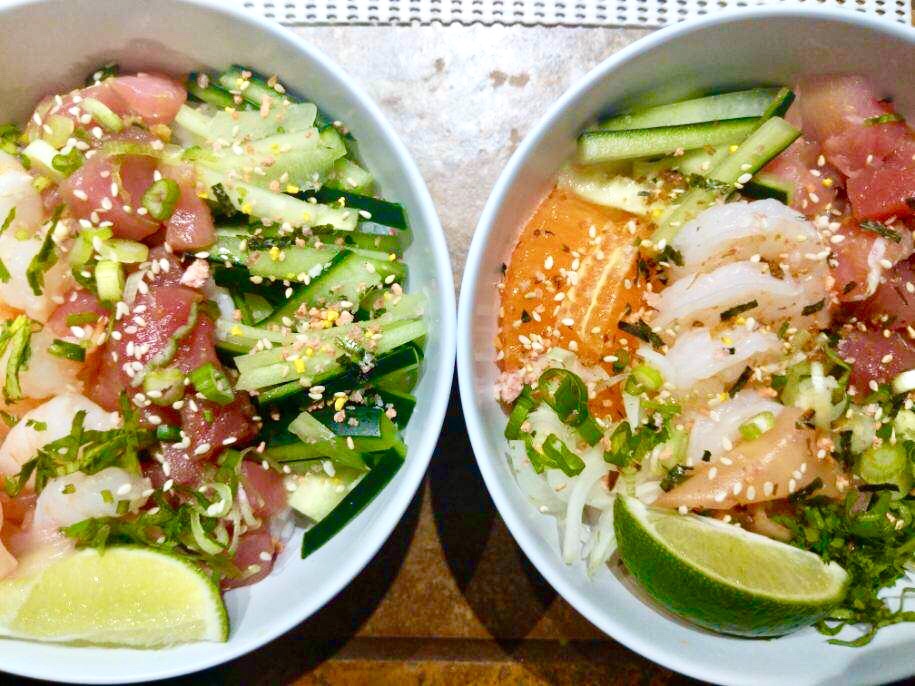 One of our lessons learned from past poke parties is that we usually buy way too much fish. So we picked out the smallest piece (about 1/2 lb), and we decided to NOT add any extra items to our grocery list because the best way to do poke parties is to just use what you already have.
Another lesson learned is that we should just marinate the fish, and not any of the other ingredients because otherwise it gets too salty. My sister makes the most delicious marinade with soy sauce and other Asian sauces and ginger and garlic and onions and she even included some lime this time!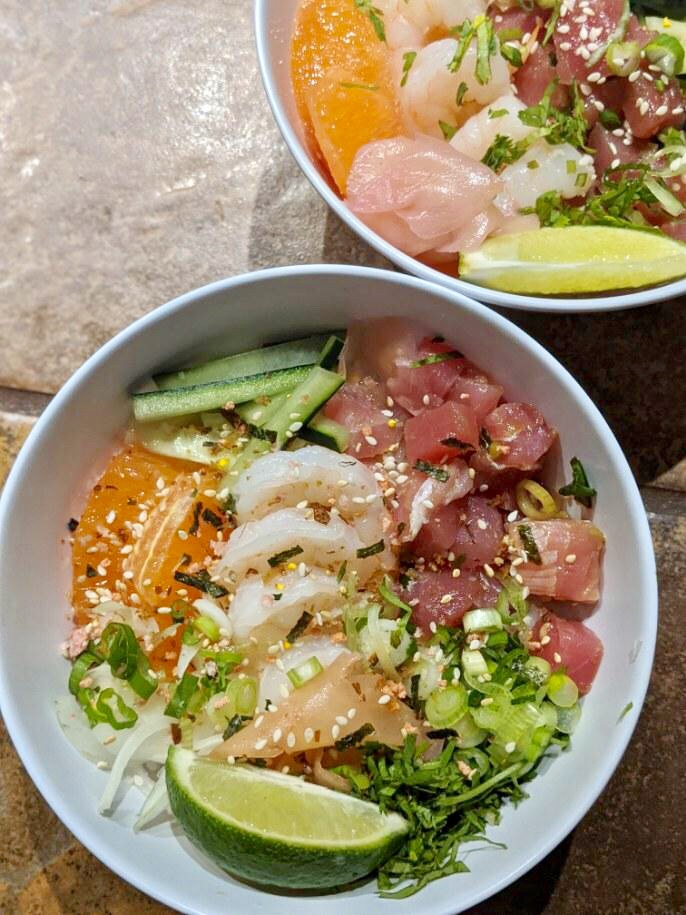 If you're wondering, yes, we ate everything on that table. There were no leftovers, and there shouldn't be, since this is raw fish we're talking about.
---
Day 8 (Thursday): We had a planned game night with our cousins this day, so I wanted to make something easy. I still had a lot of pulled pork leftover from a few days ago, so it's taco time again!
I was expecting to do another taco night, so I made sure to buy lots of cilantro and sweet onions. I also happened to buy Mexican cheese, which I wasn't even planning on using for this. (I like putting Mexican cheese in my green bean casserole...which will be for another blog post!) But it adds some nice color to the tacos!
Also, we're sitting here at my dinky table, when I realize how nice the lighting is at one particular spot. And I realize that I have a spotlight in my kitchen that is pointing RIGHT at that spot on the table, and I have two other spotlights and I'm like WHY HAVEN'T I NOTICED THIS BEFORE. I need to buy a ladder now so I can re-angle these lights and give my pictures better lighting for the future.
My sister also made some shaobing. She's so talented.
---
Day 9 (Friday): So one of my friends is really into those Bon Appetit videos, and I figured I'd watch one to see what all the fuss is about. I'm not really into watching videos about food, but watching this video of this guy making pasta with chickpeas really made me want to make pasta with chickpeas.
Except this is more like soup. Pasta soup? They call it "brothy pasta" which my sister thought was weird, but that's what it is! You eat it with a spoon! We also threw in some kale and celery that we just happened to have. I thought it was great. I'd make it again.
Oh remember how I was struggling to find flour at the grocery store? Well, that's not the only thing we struggled with. We also couldn't find butter. We did find butter substitutes though, so we bought two packs of margarine. My sister used it to make these croissant-like things that don't really resemble croissants at this point, but whatever. It was still tasty.